These are half-day to one-day guided cycling activities in Nasu that anyone can join. If it's your first time to ride a sports bike, don't worry. Our guide will teach you how to maneuver it. On the calendar select a date when a tour is on and sign up for it at least two days in advance.
RIDING LEVEL : RELAXING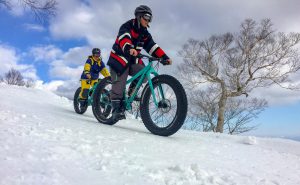 [Half Day]
Rent a popular fat bike, a bicycle with oversized tires, get on a gondola lift with it, and ride in a snowy forest at the mountain top! Ride Experience presents the winter-only snow cycling tour at Mt. JEANS NASU.
 Bike on a snowy forest path between large beech trees to find a spectacular view!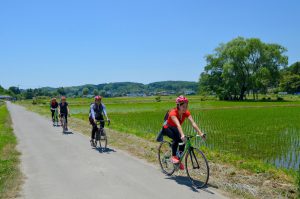 Enjoy a slow, relaxing ride through a farming village with over 1,000 years of history at the edge of Japan's largest alluvial fan at the base of the Nasu mountain range. Follow our guide who knows the area inside out and travel on quiet, narrow pathways and between rice fields. The highlight of the tour is a vegetable harvesting experience hosted by a local farmer, followed by a "fresh vegetable full-course lunch" prepared by the lady of the farmhouse.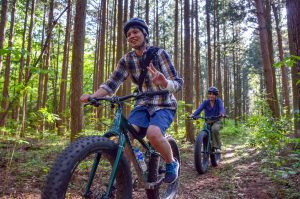 Bike through the vast natural landscape of Nasu on a heavy-duty fat bike with oversized tires! In this adventure ride, you will be biking on a gravel road in a forest which will allow you to feel like you become one with nature. You will use a bike called a "fat bike" equipped with oversized tires to ride through a forest.