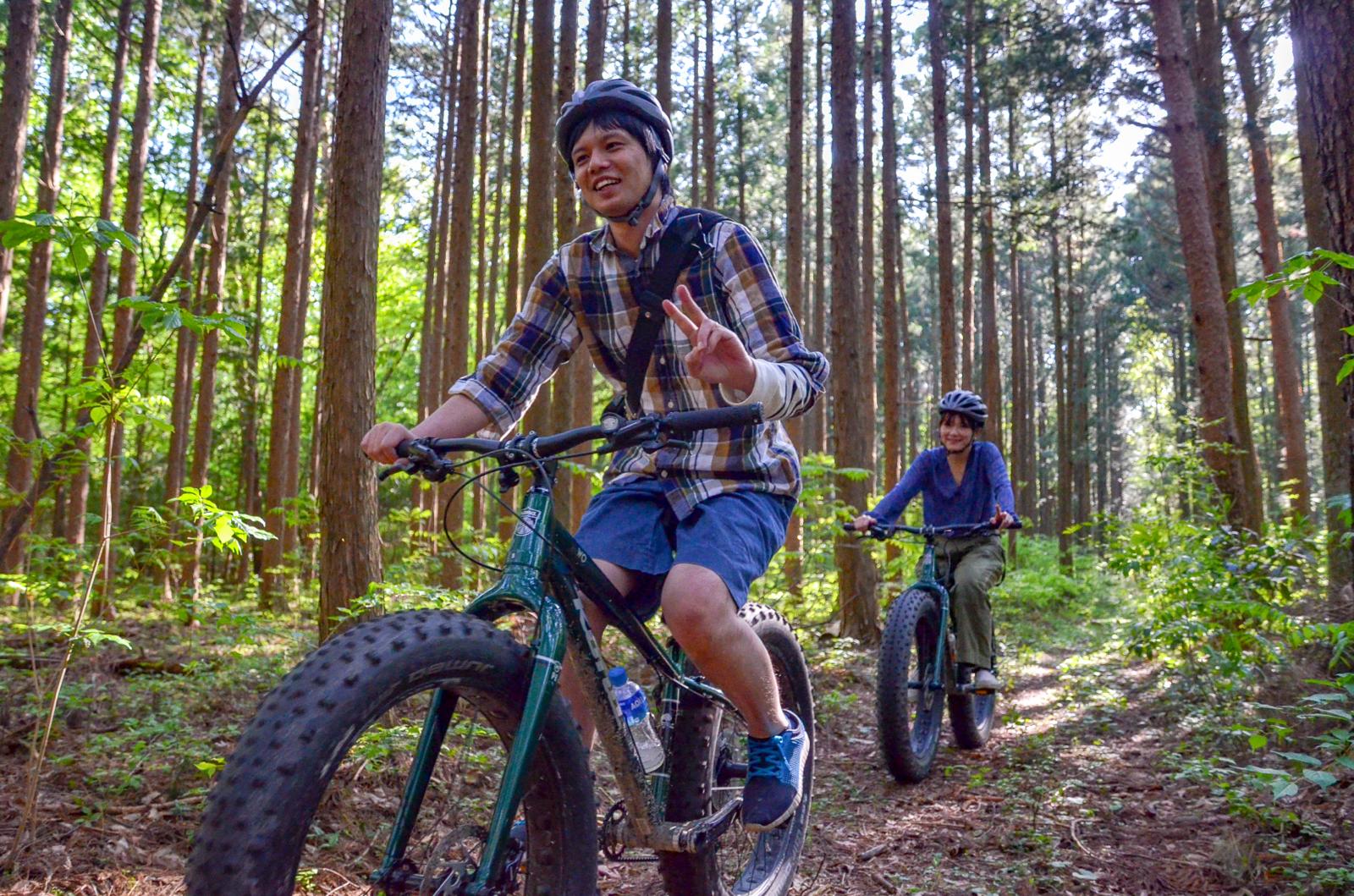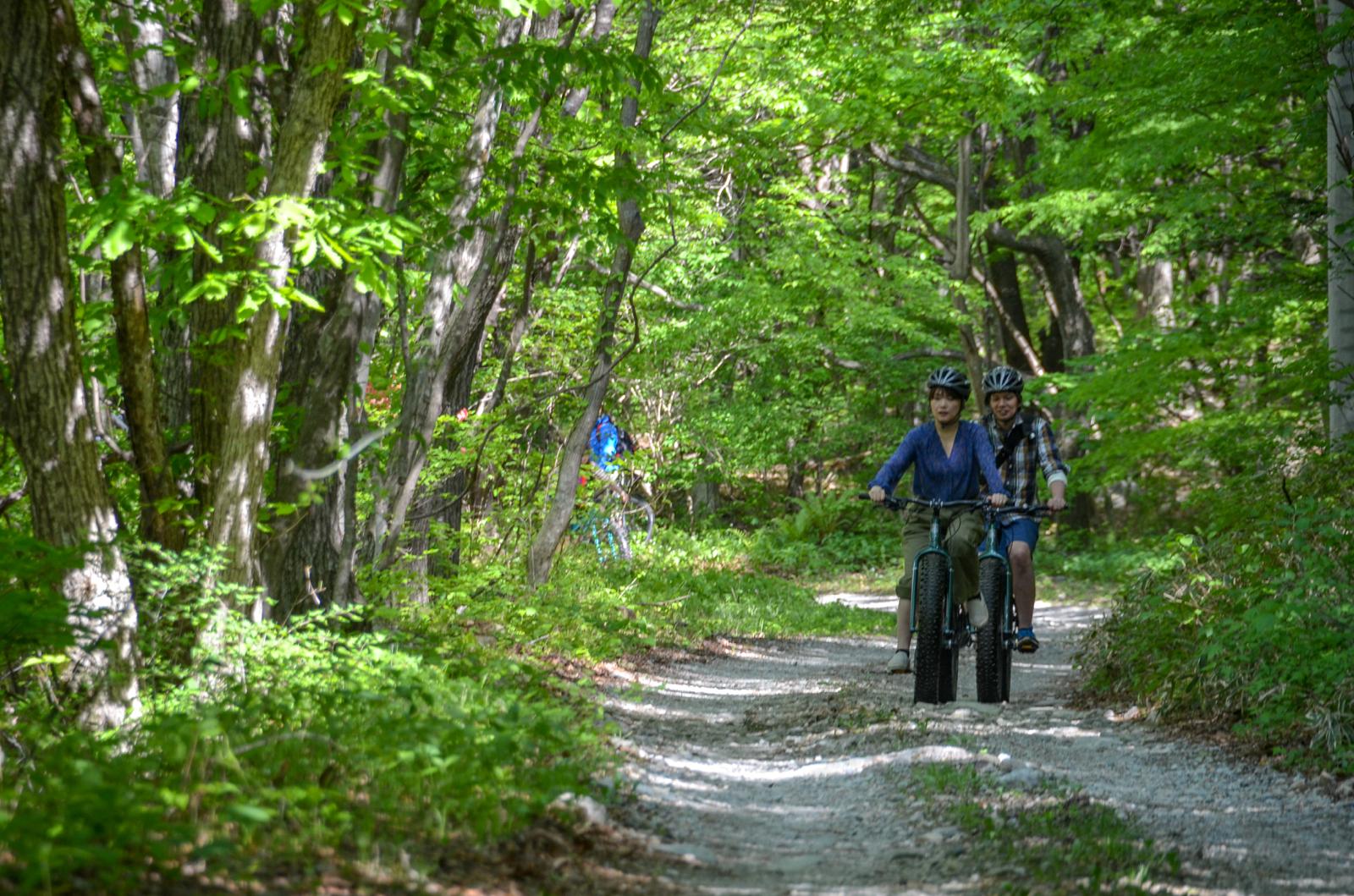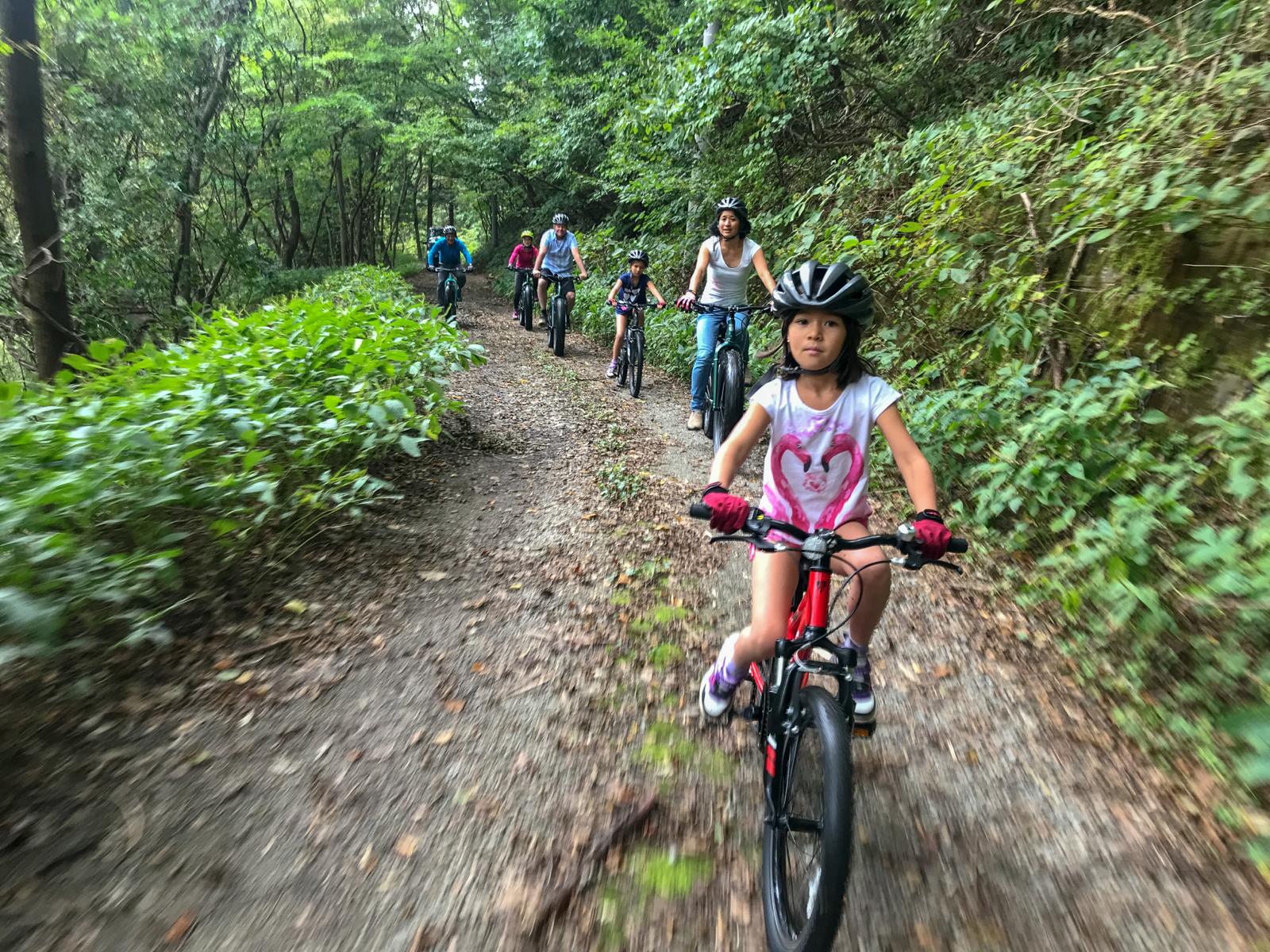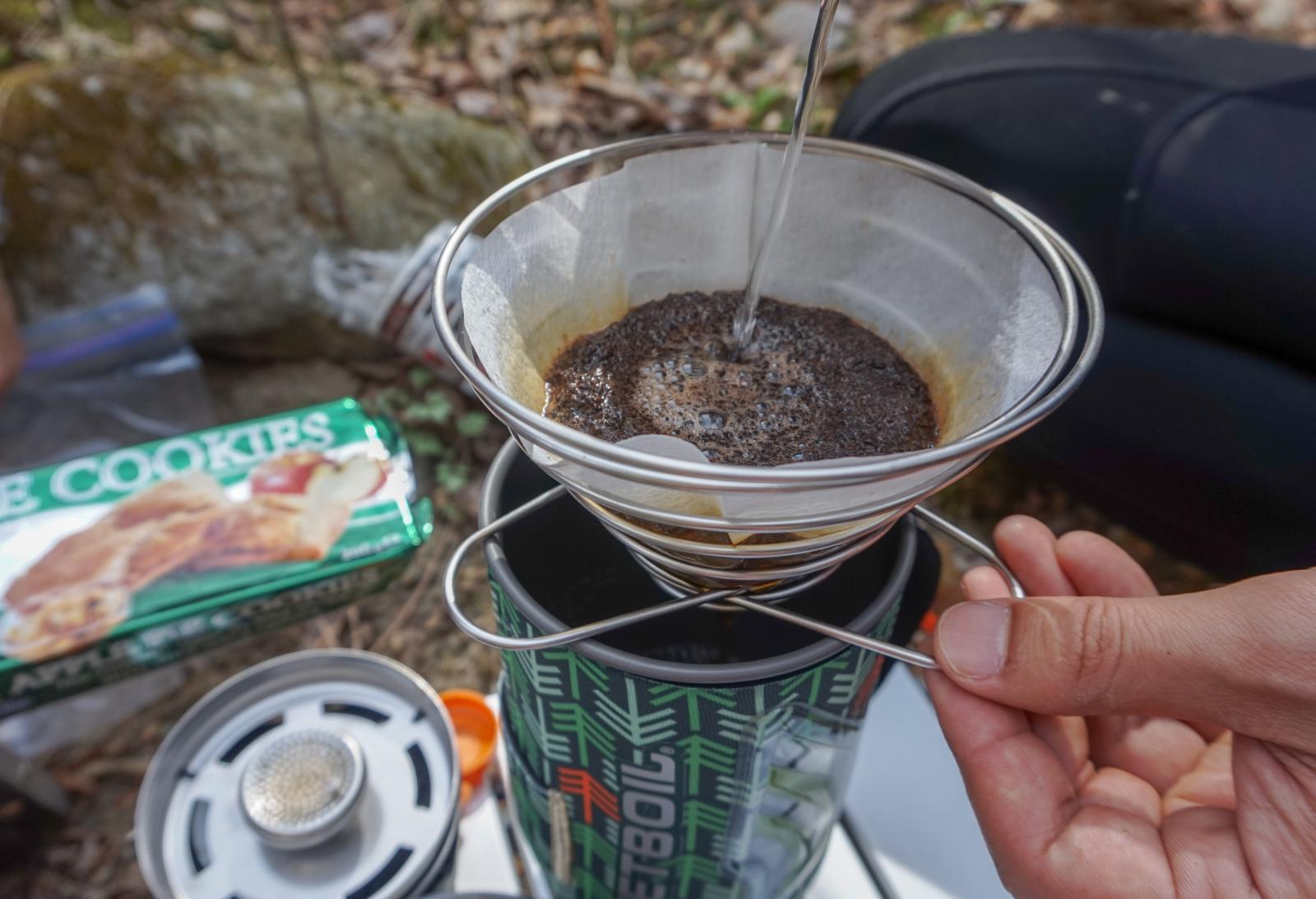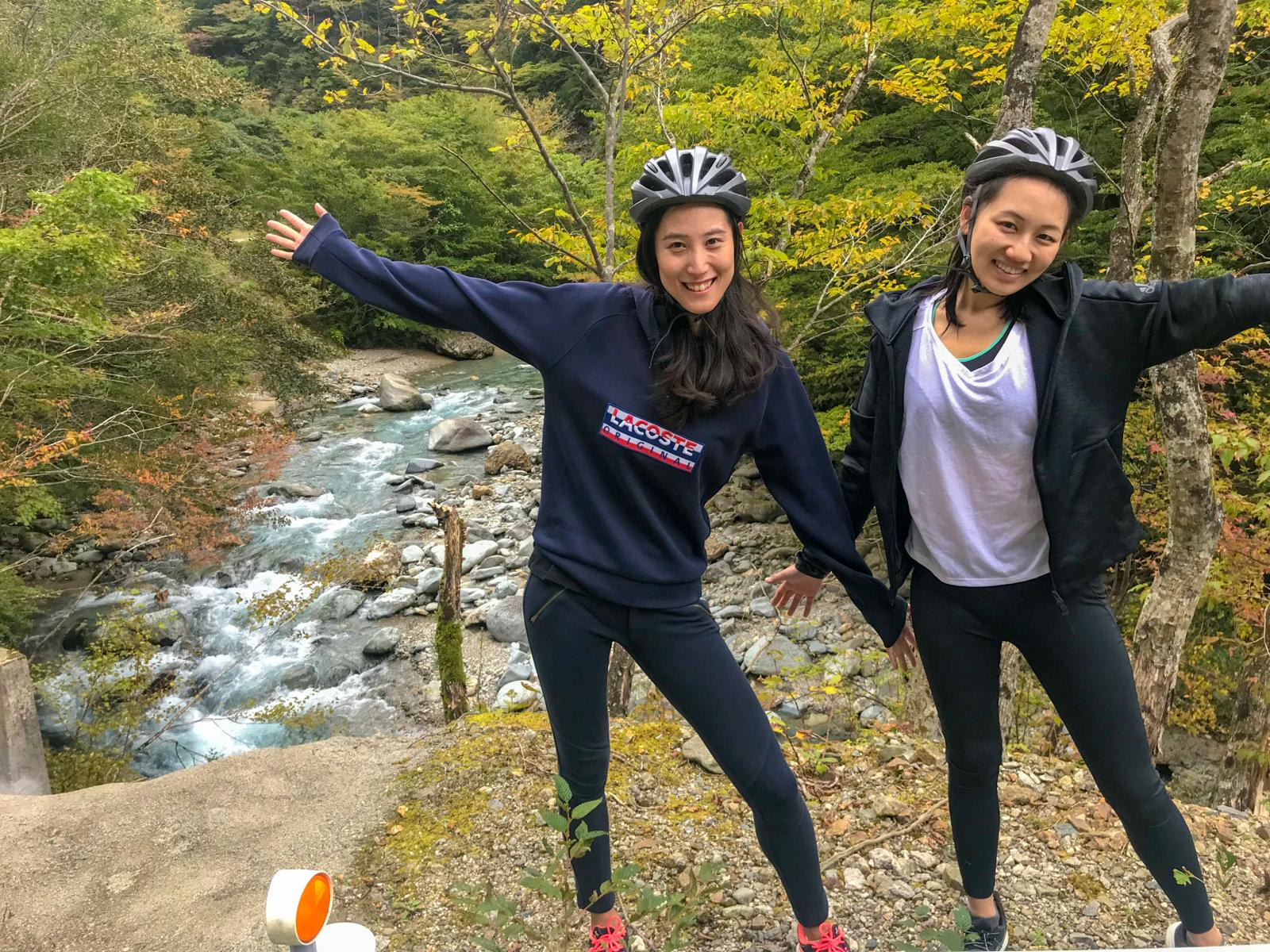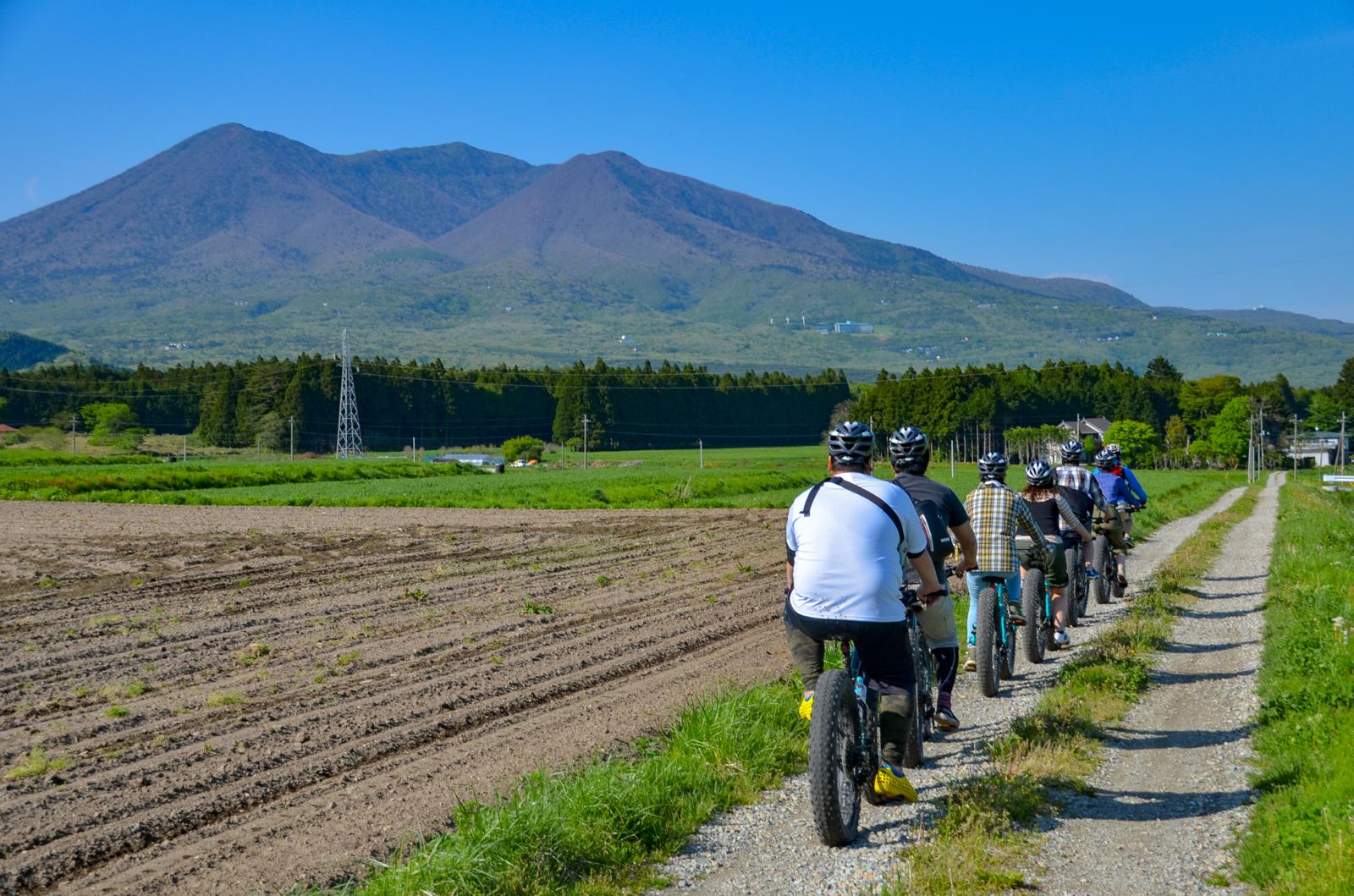 Destination
Nasu, Tochigi
Duration
Half day
Dates
Everyday between April 1 and November 30 (there are some excluded days) Please check our calendar below.
Time
Morning tour: 9:00 am – 11:30 am

Afternoon tour: 13:00 pm – 15:30 pm
Price
7,000JPY/person
Bike Rental
Included in the tour price
OVERVIEW
Bike through the vast natural landscape of Nasu on a heavy-duty fat bike with oversized tires!
In this adventure ride, you will be biking on a gravel road in a forest which will allow you to feel like you become one with nature. You will use a bike called a "fat bike" equipped with oversized tires to ride through a forest.
The tour is a good mix of riding near the beautiful Kinomata River, along a stream, on a gravel road that leads you into forests, and a paved road with a view.
The opportunity to ride on small paths that even locals do not know is one of the great and unique features of a guided tour. Feel the adrenaline rush when traveling down an undulating road! Even on that kind of unstable road, a fat bike or mountain bike can provide a stable ride.
On a break, our guide will make tasty coffee for you by a riverside. There is nothing like savoring coffee while surrounded by nature!
HIGHLIGHTS
Experience the nature ride. Bike through forests, travel along streams, and let yourself be part of the great natural landscape of Nasu National Park.
A fat bike with oversized tires can provide a stable ride even on gravel. Both beginners and children can also enjoy the tour.
You will be riding through forests and along streams on a mountain, but there won't be too many ups and downs. You'll be able to keep up the pace even if stamina is your concern.
You will enjoy a wide variety of views including not only forests and rivers but also peaceful villages and rice fields that stretch to the horizon.
While taking a break at a clear river, our guide will make delicious coffee for you.
To join the tour, just sign up. Everything you need including a bike and helmet is included in the tour package.
ITINERARY
We meet at a parking lot in a mountain area, away from a train station. Your journey begins after making fat bike settings and learning how to maneuver it! In a few seconds, you will be on a gravel road.
Speed along a clear stream on a winding gravel road! There will be branches and large puddles ahead of you, but your fat bike can easily pass over them. You will soon find yourself starting to enjoy splashing the water.
After going through a green canopy where soft light nicely falls onto you through the leaves, you will take a break at a riverbank. Look forward to the delicious coffee made by our guide.
You return to forest biking along the river, and then the second half of the tour begins. You will first be traveling in a peaceful rural landscape. Speed down a long, long path between rice paddies and then bike into forests after going by a community at the base of a mountain. Enjoy the thrill of zooming between trees while going over grass and branches.
After biking from one landscape to another totally concentrating on what's ahead and around you, you will suddenly find yourself back in the parking lot where you both began and ended your journey. It's a three-hour ride where you have absolutely no time to be bored.
BIKE RENTALS
In this tour, you can rent a sports bike from the choices below. The rental fee is included in the tour price.
KONA / CANNONDALE
Fat bike
A bike perfect for adventures and exploration. It is equipped with oversized tires like an off-road motorcycle to allow a fun and stable ride on rough or snowy surfaces (10×1 speeds).
TREK
Mountain bike
A versatile sports bike providing a stable ride both on and off road (8×3 speeds).
TOUR DETAILS
Tour Name
Forest Gravel Ride
Dates and Time
Everyday between April 1 and November 30 (there are some excluded days) Please check our calendar
Morning tour: 9:00 am – 12:00 am
Afternoon tour: 13:00 pm – 16:00 pm 
Meeting Point
Kinomata Parking for Ride Experience (in front of "Kinomata" bus stop on the Itamuro Road)
Price
7,000JPY per person
What's Included
Guide, bike rental (fat bike or MTB), helmet, coffee, insurance and tax.
Riding Level
Relaxing (Beginner)
Conditions
・The tour is suited for beginner to Level 1 riders

・You must be 150 cm or taller

If you want a child between 120 and 150 cm tall to join the tour, charter a tour for an additional fee (2,000 yen) and enjoy it with your family or group (children shorter than 120 cm are not permitted).
Maximum Participants
8 people
Minimum Participants
2 people
Rental Bikes
KONA/CANNONDALE fat bike or TREK mountain bike
Payment
Please pay the tour fee in cash on the day of the tour.
Tour Operator
Ride Experience Inc.
What to bring
ID (any one of the members if participating as a group).
Comfortable and easy to move clothes (pants style is recommended).
Sports shoes that you don't mind getting dirty (sandals and high-heeled shoes are prohibited).
Drink (bikes have a holder for a 500 ml pet bottle), energy food, and so on.
Change of clothes. (Your clothes may become dirty or wet from sweating and spray.)


*If you want to bring your belongings, only a backpack is allowed. (Shoulder bags or hand bags are prohibited for safety reasons.)
Note on reservation and participation
Payment
Please pay the tour fee in cash on the day of the tour.
Tour cancellation
The tour still takes place in light rain. If extremely bad weather is predicted, the tour may be cancelled. In this case, we will contact you by 7 pm the day before.
The tour will be cancelled, even after your booking, if the required minimum tour size is not reached.
If the tour you reserved is cancelled, we will rearrange your tour date or refund the full amount.
Cancellation fee
There will be a cancellation fee if you cancel your reservation for reasons attributable to you. The fee depends on the date of cancellation. Thank you for your understanding.
| | |
| --- | --- |
| Cancel 7 – 2 days prior to the tour date | 30% of the tour price |
| Cancel 1 day prior to the tour date | 50% of the tour price |
| Cancel on the tour date / No show | 100% of the tour price |
How to reserve the tour
Please read the terms of service below and make a reservation via the email form or by phone. The reservation process is complete when we confirm your reservation.
Caution

The tour may take longer than planned due to weather, traffic, construction work, or the biking skill or physical condition of the participants. Please set aside plenty of time before your next plan after this event or tour.
Make sure to wear a helmet to prevent or reduce injuries. Injuries may not be covered by insurance if you do not wear it.
Photo
MAP
Access to Kinomata Parking for Ride Experience
Address: 3073 Momura, Nasushiobara-shi, Tochigi, JAPAN
By Car: 15 minutes from "Kuroiso Itamuro Interchange" on Tohoku Expressway, 4.9km north from "Toda" intersection, in front of "Kinomata" bus stop
By Train: Take a bus from JR Tohoku Line "Kuroiso" station and in front of "Kinomata" bus stop
INQUIRY
If you have any questions about this tour, please contact us via the
Contact form
.
BOOKING
Terms & Conditions of Bike Tour / Program
Please read carefully the following terms and conditions. In completing and submitting our application form, you agree to be bound by these conditions which form the agreement between Ride Experience Inc. and you.

Insurance Benefit Details
The below is the details for the insurance included in the tour. Please note that the insurance benefit is not enough to cover all your medical expense when it needed. You are strongly recommended to make a contract of travel insurance.
Death or permanent disability, up to 5,000,000 yen
Inpatient medical costs, up to 4,000 yen per day
Outpatient medical costs, up to 2,000 yen per day
Company liability, up to 100,000,000 yen

Travel insurance
The travel insurance is not included in the tour. Full personal travel insurance including accident, illness and travel cancellation is strongly recommended for this tour/program to guard against the unexpected event.

Health and Fitness requirements
To fully enjoy and benefit from your holiday experience you should be in good health and physical condition. If you have a medical, physical or mental condition you must disclose this to us upon booking. You are also obliged to do the same once your condition changes prior to departure.

Assumption of Risk and safety declaration
You acknowledge that:
- By its very nature of adventure travel like bike tour/program can be more challenging and demanding with a commensurately higher level of risk compared with conventional holidays, and involve potential exposure to injury and possibly death.
- The additional dangers and risks associated with bike tour/program may include difficult and dangerous terrain, extremes of weather, including sudden and unexpected changes, remoteness from normal medical services and from communications and evacuation difficulties in the event of illness or injury.
- We reserve the right to withdraw any person who in our opinion is likely to endanger themselves or others. We also reserve the right to cancel any activity if we become concerned for any reason for your safety or that of any other person.
- You must follow our instructions and use any safety equipment provided at all times. For the above reasons you accept the inherent and increased dangers and risks associated with the proposed adventure and the accompanying risk of injury, death or property damage or loss.

Release and Waiver of Liability
In consideration of Ride Experience Inc. accepting your booking and in consideration of you being permitted by Ride Experience Inc. to join the tour to the extent permitted by law, you:
- Release, waive, discharge, hold harmless and agree to indemnify Ride Experience Inc. and its officers, employees, agents, licensees, guides and other representatives from all claims, actions or losses for bodily injury, property damage, wrongful death, loss of services, loss of profits, consequential, exemplary, indirect or punitive damages or otherwise which may arise out of or occur during your travel in connection with the tour or any activities conducted in conjunction there within unless caused by the willful negligence or wrongful act of Ride Experience Inc. and its employees: and regardless of the situation or circumstances giving rise to the claim you waive any claims you have, or may at any time have, against Ride Experience Inc. and its employees and you agree, by accepting the additional inherent dangers and risks associated with the tour/program, not to make any claim against or seek any compensation from Ride Experience Inc. and its employees in respect of any personal injury, illness or death suffered by you or damage to or loss of property sustained by you as a result of your participation in the tour/program. To the extent permitted by law, all our liability for damage to your property, disruption to travel plans, or mental injury is excluded.

Image Rights, Media Content and Devises
You irrevocably consent to:
- Your appearance in the tour/program being filmed, recorded, incorporated and exploited in whole or in part in any television program, film, video or broadcast of whatever nature by any means and in any media and format now or invented after the date of the tour/program;
- The use and reproduction of your name, likeness, appearance and photographs, films and recordings by any means and in any media and format for the purpose of advertising, publicity and promotion of the tour/program and Ride Experience Inc. ; and
- You further hereby waive any moral rights you may have in respect of any use, reproduction, modification, publication or broadcast of your name, image, appearance or likeness.

All content from photographs, official blogs, emails, promotional materials and other materials distributed by Ride Experience Inc. is the exclusive property of Ride Experience Inc. and must not be copied or distributed without the express written approval of Ride Experience Inc..
You are permitted to take photography for personal use only. Any commercial use of such photography is prohibited unless express permission has been granted from Ride Experience Inc..

Privacy
The information supplied by you on the booking form will only be used by Ride Experience Inc.. However, in the unlikely event of an accident, any special medical or personal information may be supplied to medical or emergency services personnel.