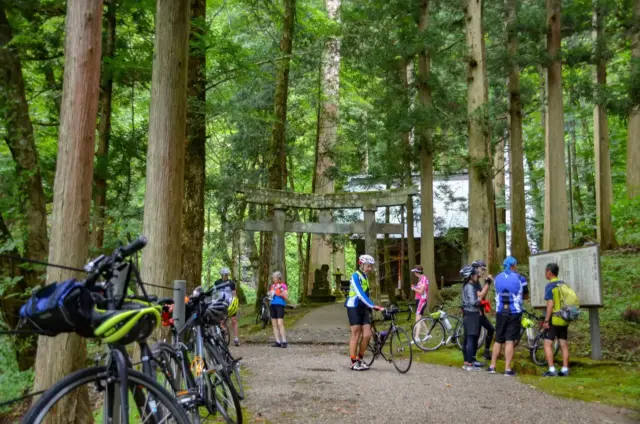 Bike Hidden Japan
Discover Japan in your most soul-stirring cycling holiday ever.
FEATURED TOURS
TRANS-TOHOKU Bike Tour
[12 days 11 nights]
Our Signature tour with many praises from our guests and recommendation from Japanese Ministry of the Environment.
The Tohoku region, the northernmost part of Japan's main island, is known for its gorgeous natural environment, rich local history, and delicious agricultural produce. Experience a more traditional side of Japan and follow in the footsteps of famous Japanese "Haiku" poet Matsuo Basho and his journey along "The Narrow Road to the Deep North".
Foodie's Bike Tour NIKKO – NASU
[6 days 5 nights]
In this foodie's bike tour, you will go on an eating spree and experience a wide variety of great food that Japan has to offer. You will visit historic towns and stay at long-established hotels and ryokans (inns), which have been welcoming VIPs from inside and outside Japan for a long time, and also at accommodations that are committed to serving high quality meals.
KUMANO KODO Pilgrimage Bike & Hike
[7 days 6 nights]
In this tour, you will be biking and hiking on Japan's oldest ancient pilgrimage roads called "Kumano Kodo", in the south of Wakayama. Visit the Three Grand Shrines of Kumano, and will find yourself completely immersed in the beautiful nature of spectacular mountain ranges, massive and strange rocks, clear streams of water, and magnificent waterfalls.
Hidden NIKKO E-Bike Tour
[5 days 4 nights]
Four days riding over backroads in the Nikko area, Tochigi by E-Bikes (Electric Bikes) and Discover a "hidden side" of Nikko! – An amazing adventure exploring nature, culture and friendship through cycling!
Cycle around the vast Nikko area and enjoy the various beautiful sceneries of mountains, lakes, rivers, forests and gravel roads with unique cultural visits.
Mt. NASU Self-guided Bike Adventure
[1 day - 3 days or more]
Nasu is easily accessible from Tokyo by Shinkansen (70 minutes) and is the best biking area close to Tokyo.
Nasu's natural environment offers us the ability to plan a wide range of inviting bike routes to match your preferences and stamina and to make the most of the seasons. Our plans include scenic hill climb rides, biking through vast rural areas, traveling in a ranch landscape along gentle hills, and gravel riding through forests that look unexplored.
Nasu Volcano Ride & Hike Tour
[2 days 1 night]
Easier and Relaxed combination of cycling and hiking for experiencing spectacular volcanic landscape, scenic downhill ride and delicious gourmet stops.