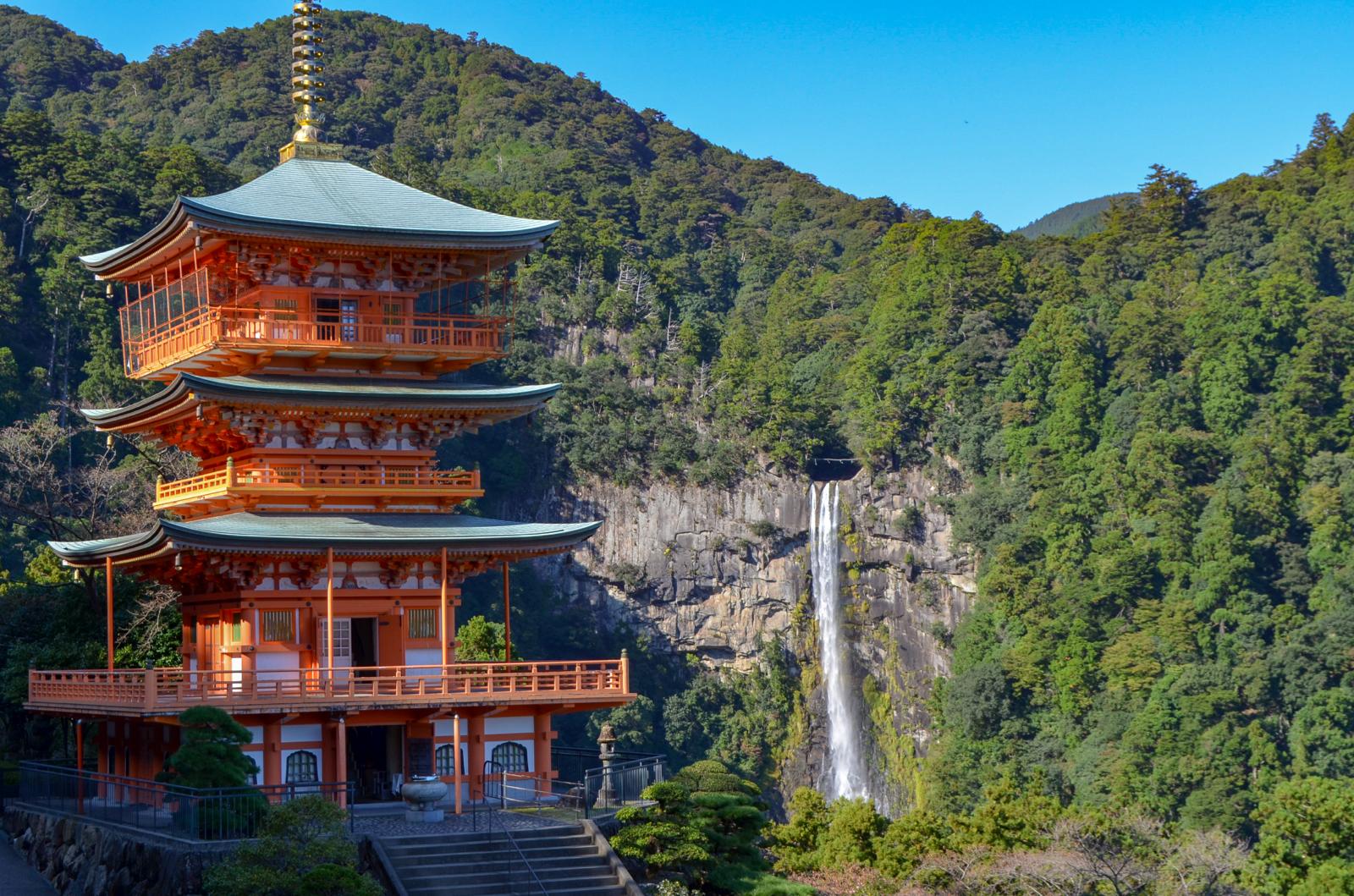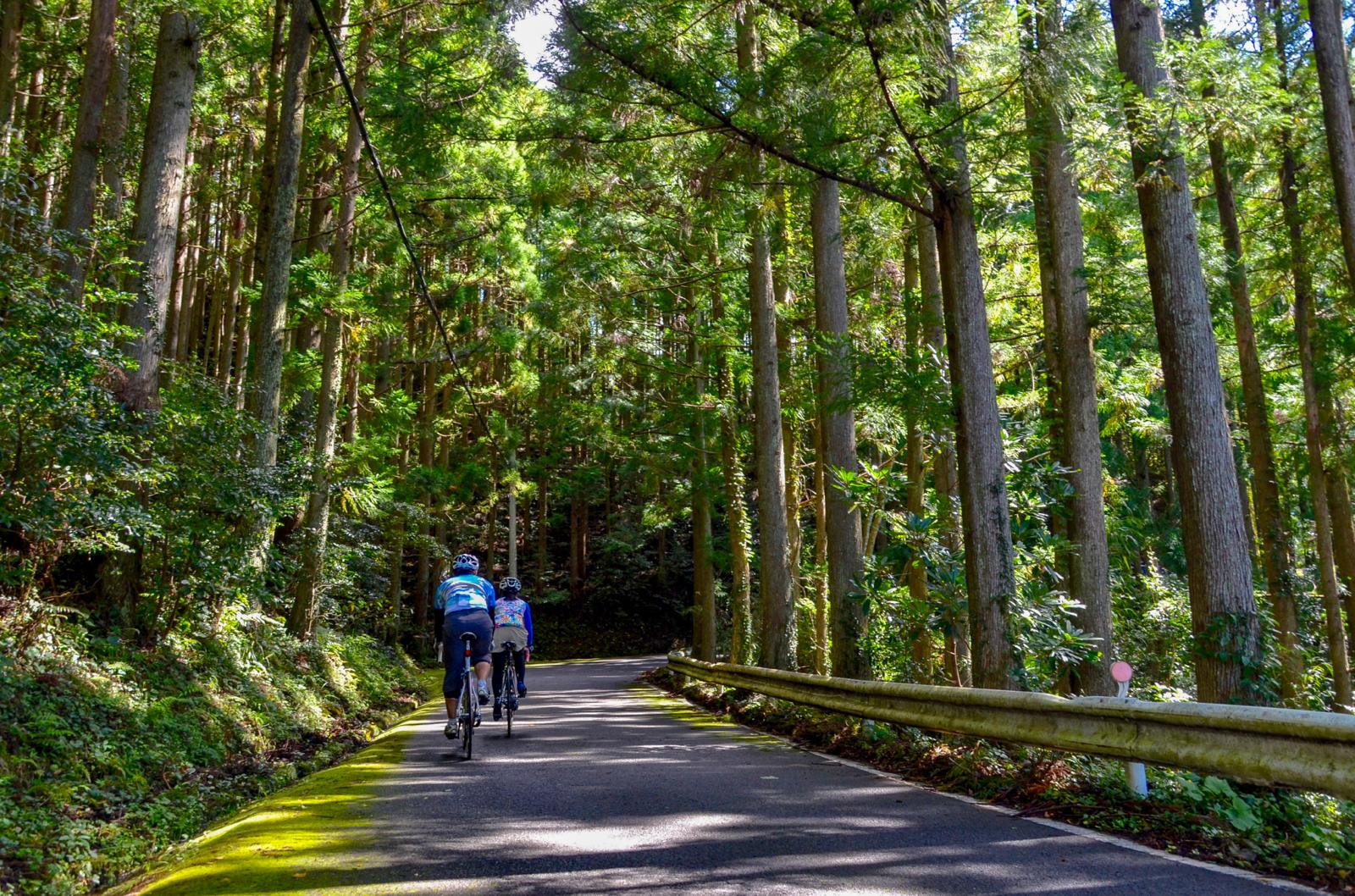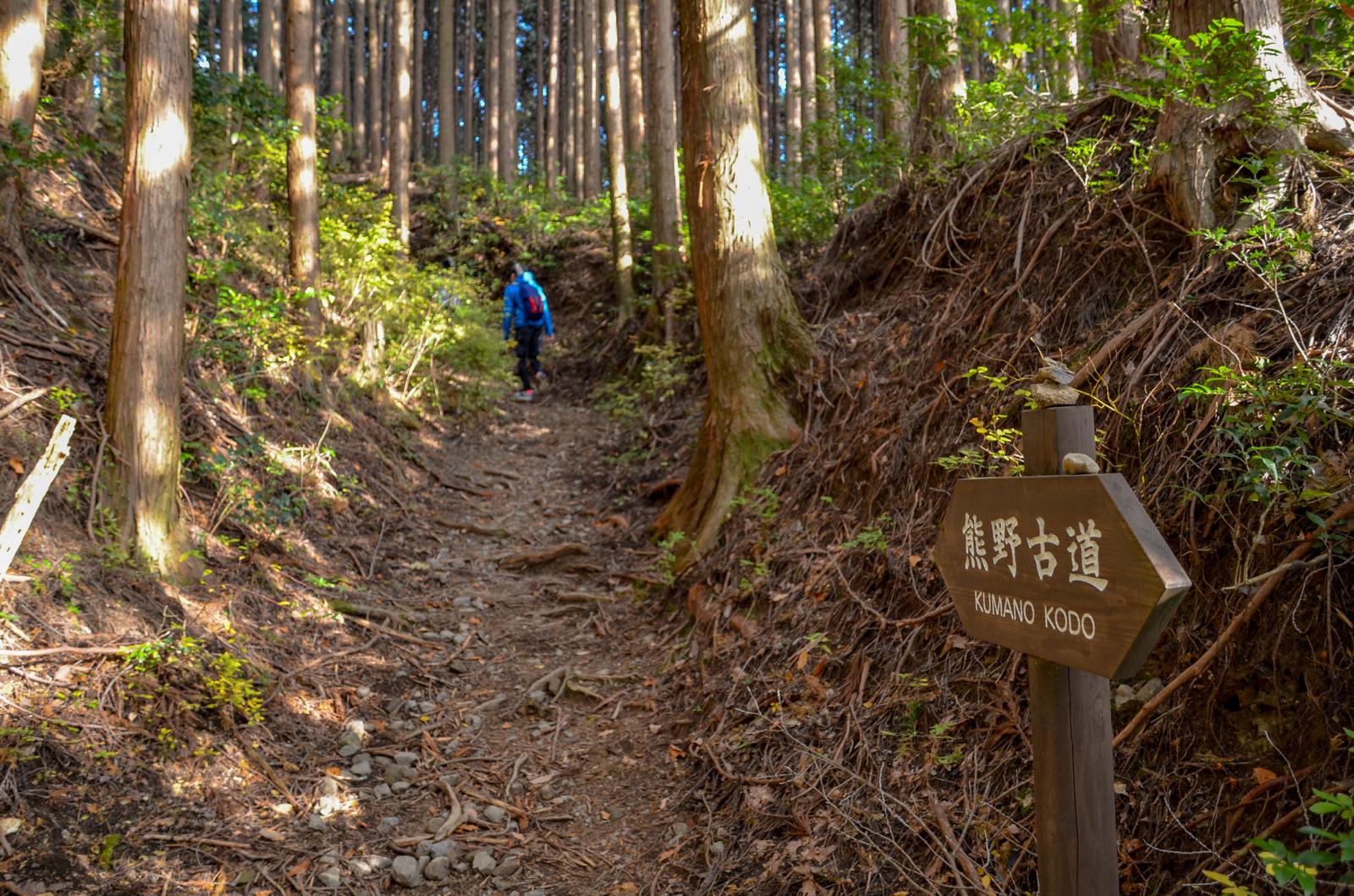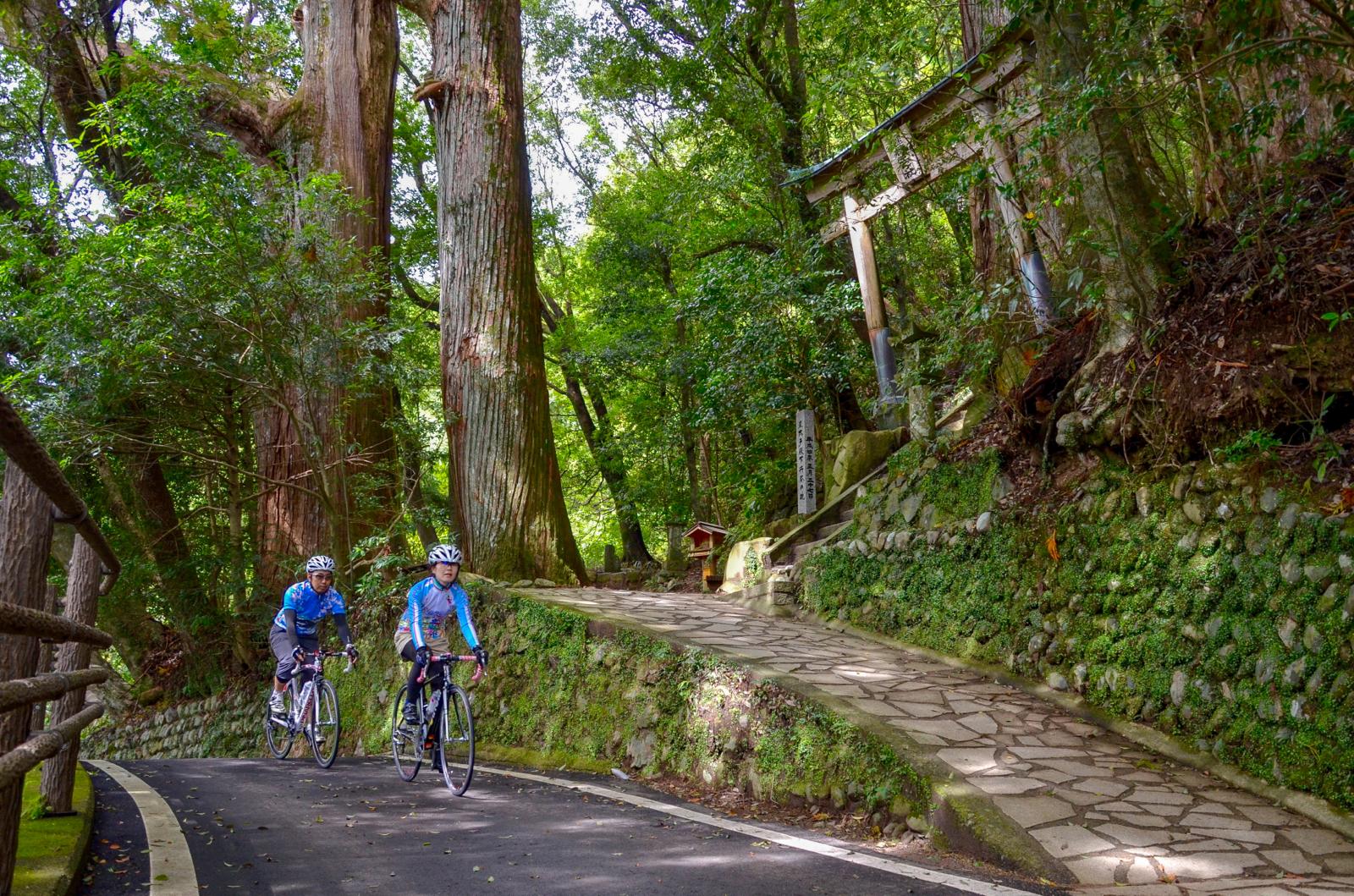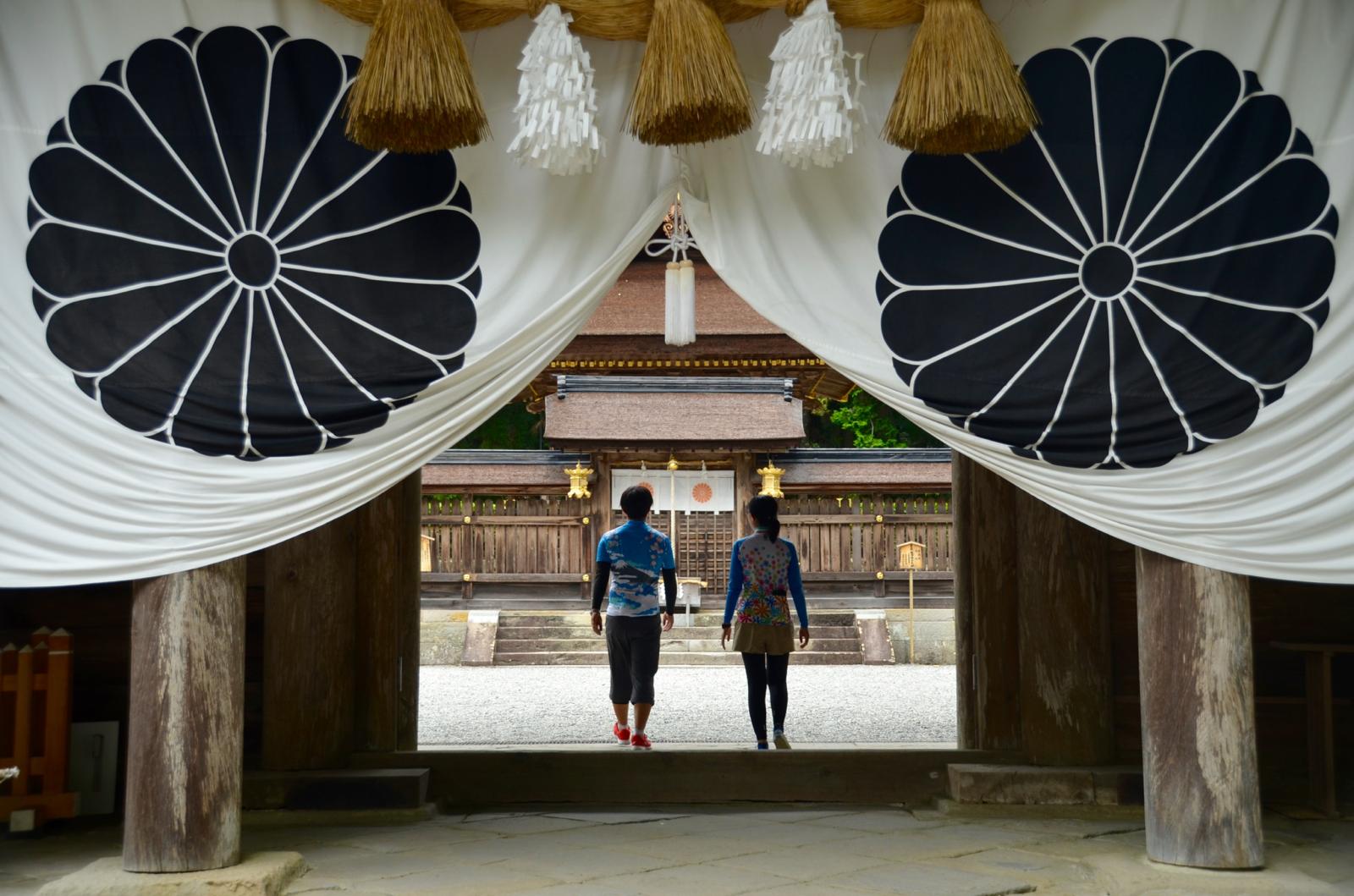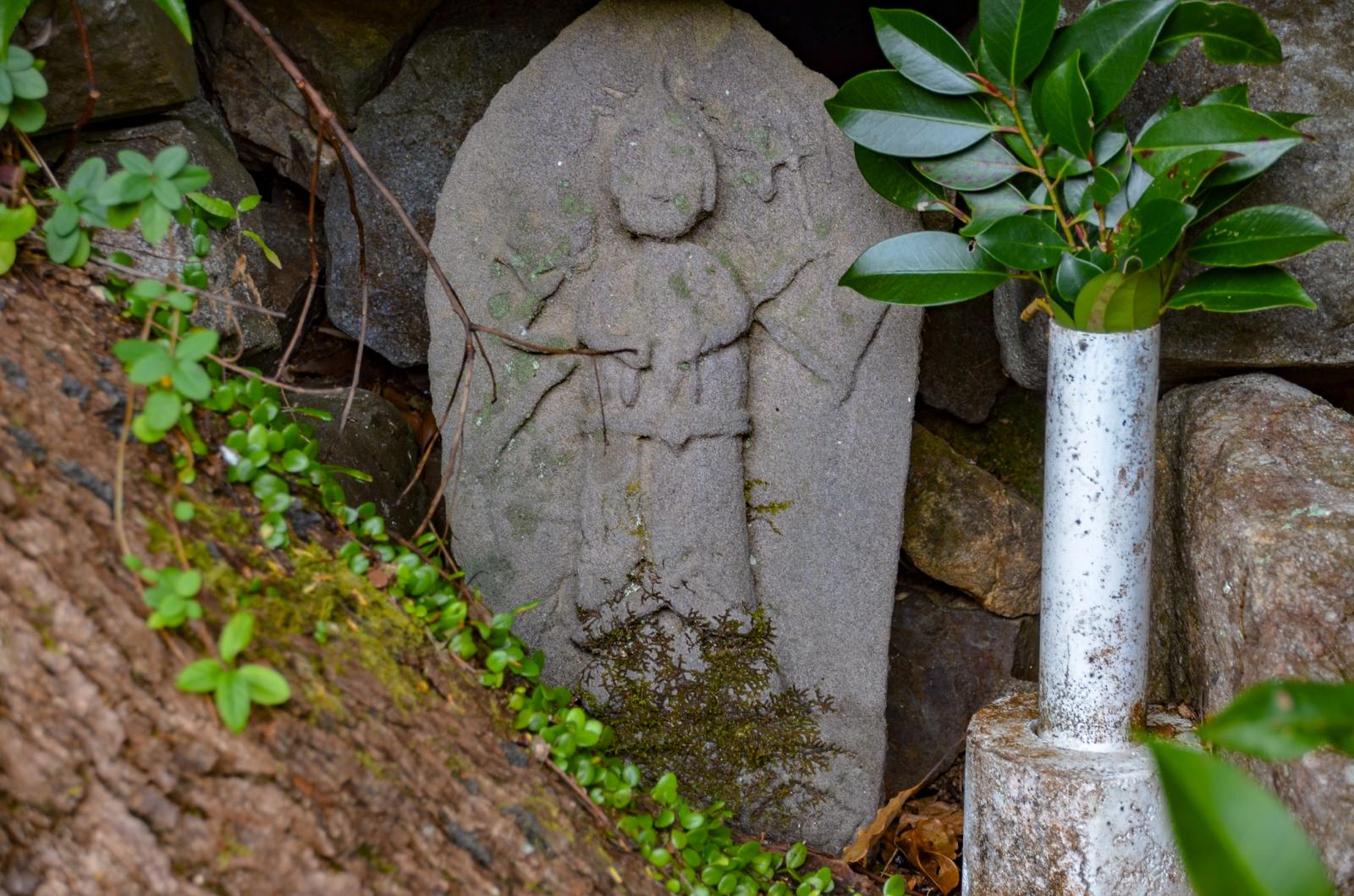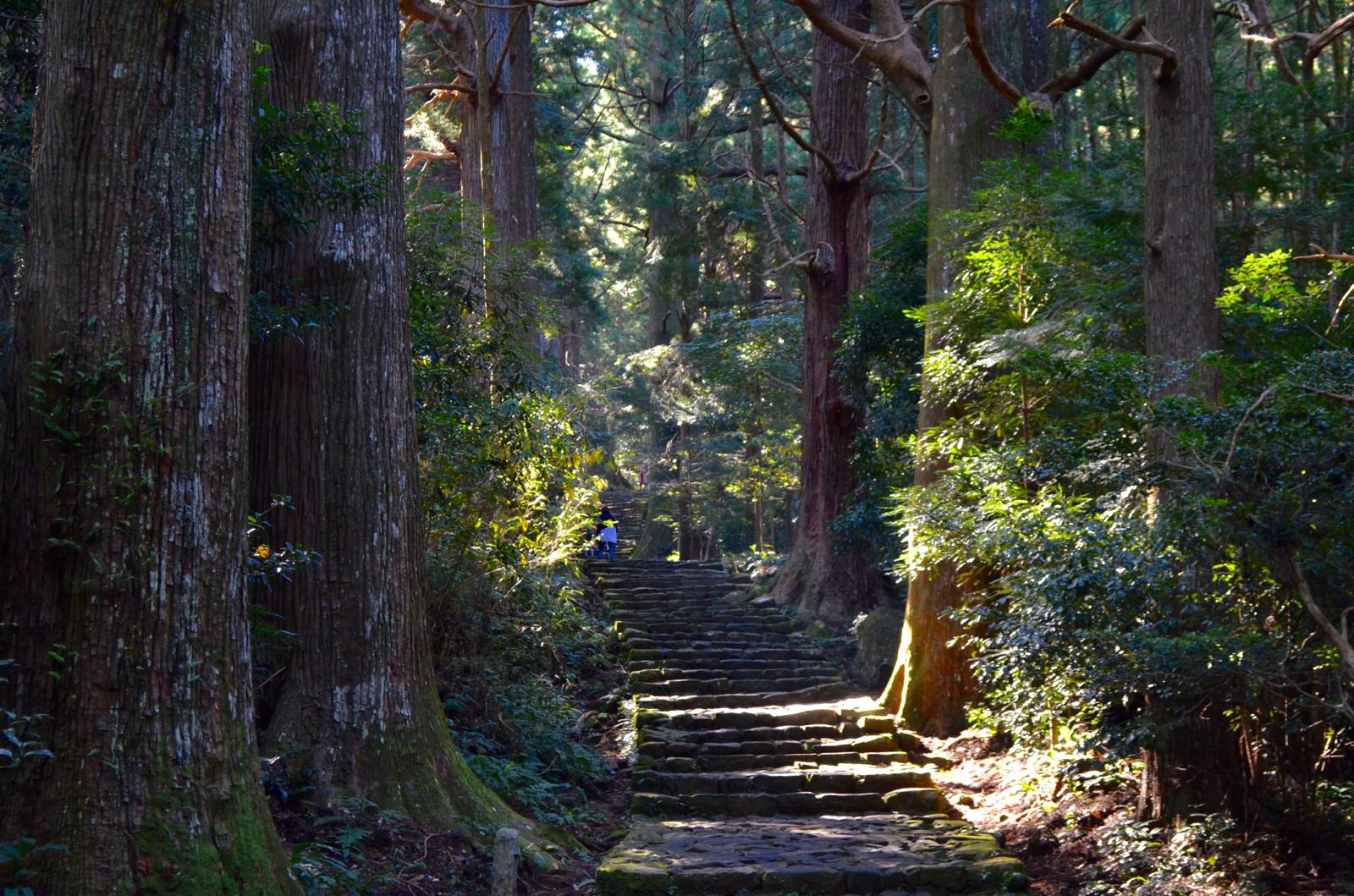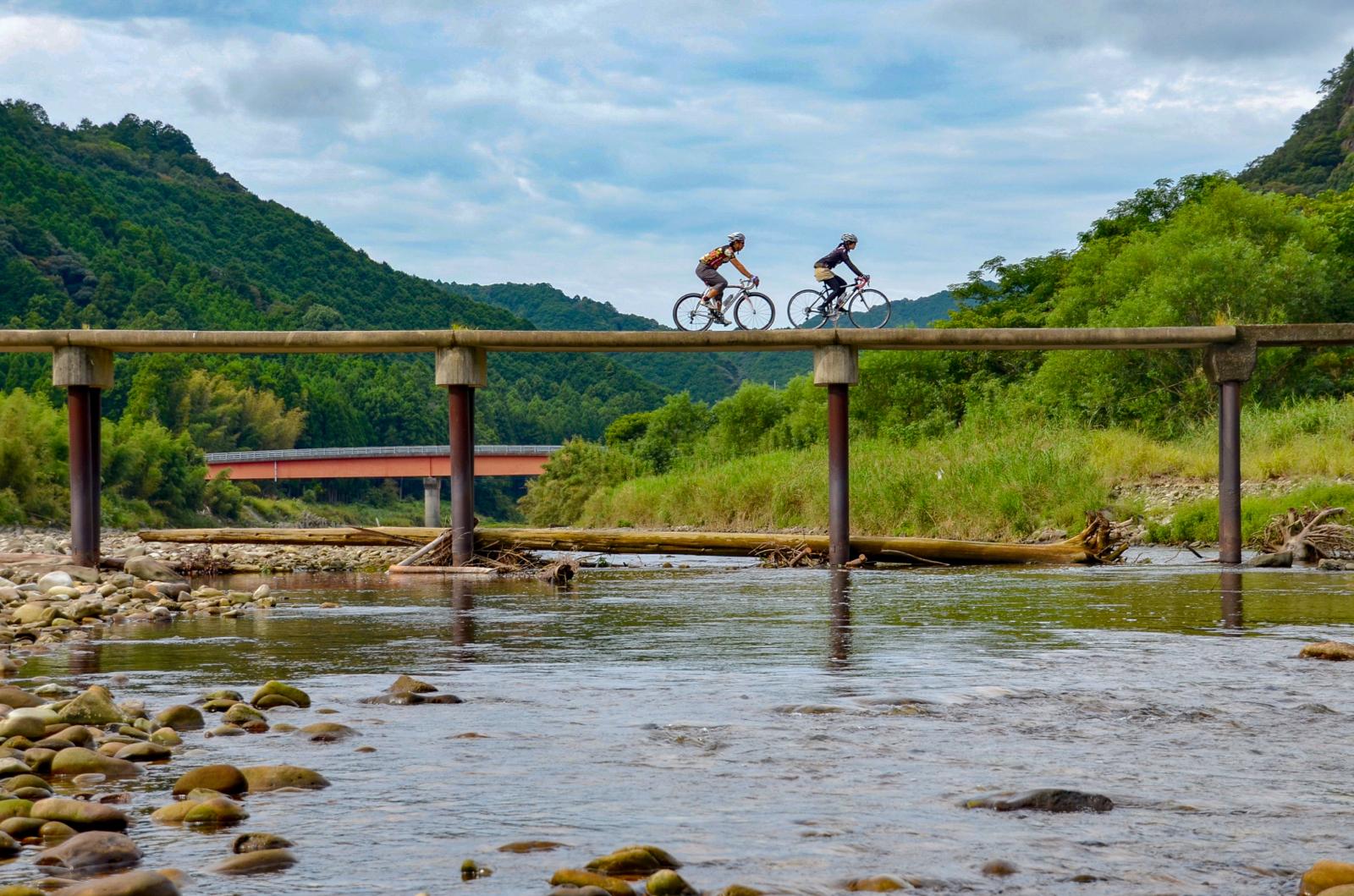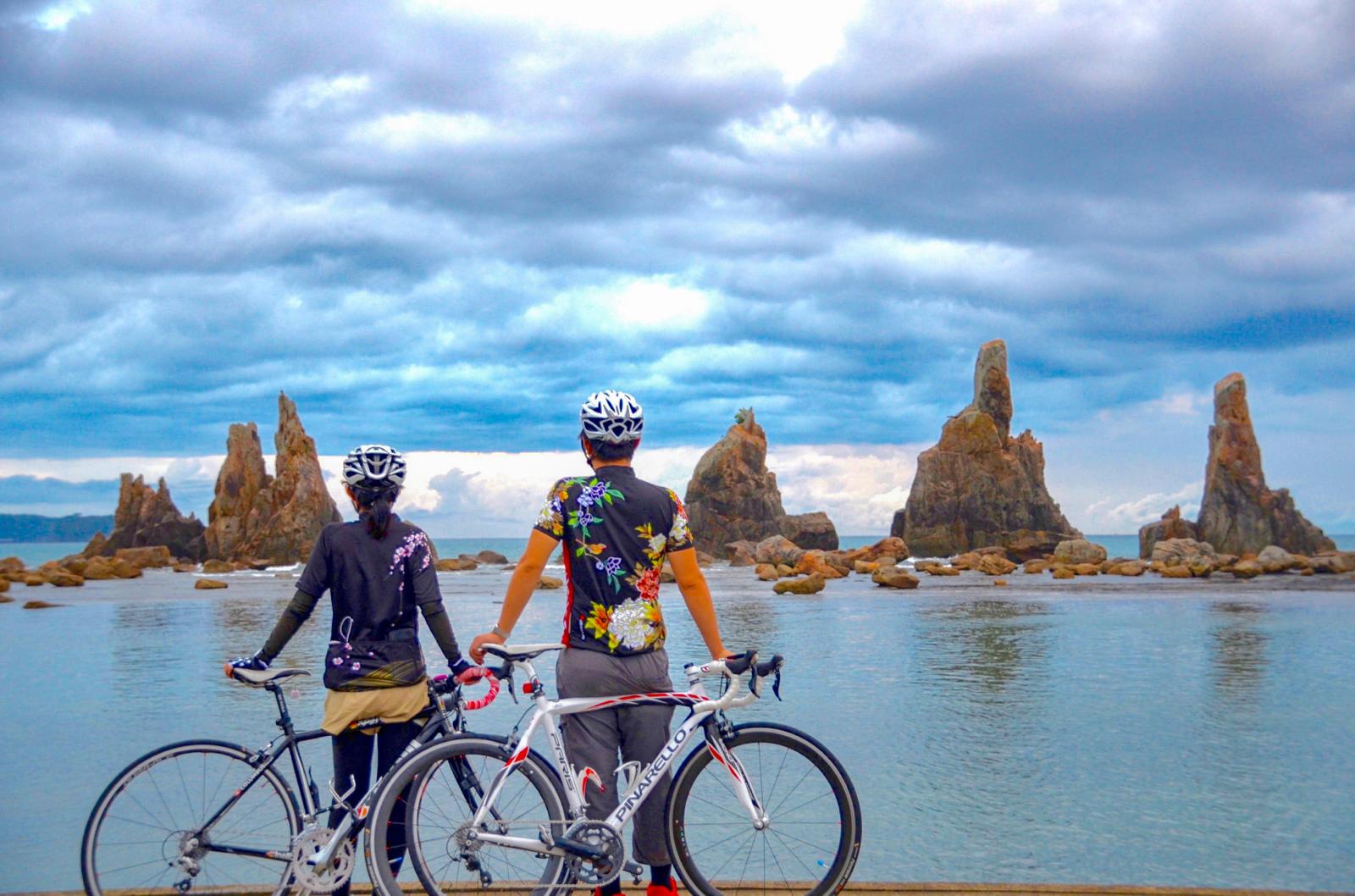 Destination
Nanki Shirahama to Kushimoto (Wakayama prefecture)
Duration
7 days / 6 nights
Dates
2023 Tours
(1) March 29 - April 4, 2023 (Finished)
(2) April 7 - April 13, 2023 (Finished)

2024 Tours
(1) March 21 - March 27, 2024 (Available)
(2) March 29 - April 4, 2024 (Available)
(3) November 27 - December 3, 2024 (Available)

(Ask for PRIVATE / CUSTOM Tour)
Price
506,000-JPY /person (Twin room share basis)
Single Supplement
40,000JPY (Note, may not be available in all locations)
Bike Rental
30,000JPY for whole tour (road bikes / e-hybrid bikes / e-MTB bikes)
OVERVIEW
Kumano in Wakayama prefecture, the area located in the south of Osaka, is an integration of nature and nature worship. Bountiful nature ― sacred mountains, Japan's tallest water fall, southern sea sparkling in blue, clear streams, and the naturally created art of rocks ― has been closely integrated into the culture of nature worship and faith in sacred land to this date. The Kumano Pilgrimage Routes, collectively called Kumano Kodo, have been leading people to the Three Grand Shrines of Kumano for over 1,000 years. Kumano Kodo is one of the two World Heritage "paths".
In this tour, you will be biking and hiking. You will travel on the ancient Kumano Kodo, visit the Three Grand Shrines of Kumano, and will find yourself completely immersed in the beautiful nature of spectacular mountain ranges, massive and strange rocks, clear streams of water, and magnificent waterfalls.
The great attraction of this tour is that you will travel the Kumano Kodo only by bike and on foot while Kumano Kodo tours usually involve bus or train travel.
HIGHLIGHTS
Bike and hike, relying only on your body, to travel on the World Heritage pilgrimage route, Kumano Kodo.
Be surrounded by the striking natural beauty where nature worship originated and formed the foundation of Japanese culture.
Enjoy the spiritual beauty of Japanese culture at the Three Grand Shrines of Kumano ― Kumano Hongu Grand Shrine, Kumano Hayatama Grand Shrine, and Kumano Nachi Grand Shrine ― the head shrines of over 3,000 Kumano shrines across Japan.
Travel along the route with continuous breathtaking views of mountains, rivers, and the sea.
At the end of a day of riding and hiking, relax and refresh yourself in hot springs (onsen) that have been well regarded by pilgrims for ages.
Stay at bike-friendly, comfortable inns with finely-tuned service.
Savor the delicious food cooked with high-quality ingredients unique to this area surrounded by the mountains, sea, and streams.
Ride on hand-picked scenic and bike-friendly roads (no gravel riding in this tour).
You can rent a high-quality road bike or an e-hybrid bike.
The tour is attended by a guide well familiar with both bike riding and Kodo hiking.
Full support using a large van to ensure your bike ride and hiking are safe and comfortable.
RIDING LEVEL
MODERATE  Cycling 30 – 60km / day + Hiking 3 half-days
A choice of e-hybrid bikes will make the mileage and ascents easier.
ITINERARY
Day 1 / Meet day [Cycle 10-15km]
Meet at a hotel in Shirahama, a beautiful seaside resort in the south of Wakayama prefecture. Arrange rental bikes, then a briefing, ice breaking and short warm up ride in Shirahama town. (Overnight stay・Dinner provided)
Day 2 / Shirahama to Chikatsuyu [Cycle 30km, Hike 9.5km]
You will leave the hotel in Shirahama and bike to the mountain of Kumano via one of the Kumano Kodo routes, Nakahechi. It'll be an off-street ride that gives you an opportunity to "feel" the history and culture. Then, as you gradually go higher, you will enter the sacred sites: Kumano Sanzan (the Three Grand Shrines of Kumano). After reaching an area with a mountain view, you will have lunch at a restaurant there, and Kumano Kodo hiking will begin. Deep inside the forest surrounded by Japanese cedars, you will be walking on the ancient pilgrimage path. There will be a natural path much traveled, stone pavement, moss-covered stone steps, and bridges. Along the path, you will see many small shrines called "oji" installed to wish pilgrims a safe trip. Stop at an oji and listen to the guide about the local history and stories. Finally, you will arrive at the small town of Chikatsuyu Oji along Nakahechi. This is where you stay overnight. Retired emperors and aristocrats also lodged in this town on the way to their pilgrimage to Kumano 1,000 years ago.
(Overnight stay・Breakfast, lunch & Dinner provided)
Day 3 / Chikatsuyu to Kawayu via Kumano Hongu [Cycle 30km, Hike 7.5km]
You leave Chikatsuyu by bike and travel on a paved path of Kumano Kodo. Ride between moss-covered stone walls and the cedar grove, feeling the awe-inspiring nature from which the Kumano faith originated. After riding further into the mountains, you will arrive at Hosshinmon Oji and take a lunch break there. After lunch, you will be headed to Kumano Hongu Grand Shrine on foot. You will walk on the most popular path in Kumano Kodo feeling the atmosphere of the distant past. After paying respect to and observing Kumano Hongu Grand Shrine, you will return to biking. The destination for Day 3 is Kawayu Onsen. It is an intriguing onsen area because hot water springs from any part of the riverbank you dig. You will stay at a long-established ryokan (inn) in this unique area to relax after a day of biking and hiking.   
(Overnight stay・Breakfast, lunch & Dinner provided)
Day 4 / Kawayu to Shingu [Cycle 50km]
You start the day with a bike ride from Kawayu Onsen to Yunomine Onsen, where you visit a World Heritage site called Tsuboyu. Then, biking along Kumano River, your next destination is Kumano Hayatama Grand Shrine (Shingu). You will travel on a moss-covered narrow path along Kumano River in the downstream direction, enter Shingu City, and pay respect to Kumano Hayatama Grand Shrine. At Kamikura Shrine, where Kumano Gongen enshrined at Kumano Sanzan was said to descend to earth for the first time, you will be amazed by an extremely steep stone staircase and a massive rock at the top of the mountain that overlooks Kumano Sea. You will lodge at the heart of Shingu City and enjoy the nightlife.
(Overnight stay・Breakfast provided)
Day 5 / Shingu to Katsuura via Nachi [Cycle 30km, Hike 3km]
From Shingu City, you will bike on the paved Kumano Kodo path along the sea to the last of Kumano Sanzan, Kumano Nachi Grand Shrine. When you arrive at the entrance of the shrine, you will get off your bike and begin hiking Daimon Zaka, a beautiful stone pavement with the most vivid reminiscence of the ancient Kumano Kodo of the whole route. Hiking on moss-covered stone pavement surrounded by huge cedar trees, some centuries old, may allow you to feel what it was like to be a pilgrim in the past who determined to complete the difficult and physically demanding journey to visit the Kumano shrines. The inspiration for the faith that led to establishment of Kumano Nachi Grand Shrine was the Nachi Waterfalls. The water drops 133 m, making the waterfalls the highest in Japan. Stand in front of it and try to imagine ancient Japanese believing that deities resided in it. After seeing the Nachi Waterfalls, you will bike down the mountain toward the sea. You will be staying in Kii-Katsuura, an area with the highest tuna yield in Japan. You will soak in an onsen to relieve the fatigue of visiting Kumano Sanzen and enjoy fresh tuna fish.
(Overnight stay・Breakfast & Dinner provided)
Day 6 / Katsuura to Kushimoto via Koza River [Cycle 40km]
In the morning, you will take a train to Kushimoto. It'll be a great biking experience along one of the clearest rivers in the Kansai region, the Koza River, going from one incredibly large or strange rock to another in that area. The climax of the second half of the day is the surreal view of Hashigui Iwa, a row of rocks that extends for as long as 850 m in the Pacific Ocean. The last accommodation of the tour is a resort hotel that stands at the top of the hill in front of Hashigui Iwa. We recommend the view from the hotel's outdoor bath of the rising sun casting morning light onto Hashigui Iwa.
(Overnight stay・Breakfast & Dinner provided)
Day 7 / Breakup of the tour at hotel in Kushimoto
After having breakfast and checking out of the hotel, the tour breaks up. From the hotel, you can take a shuttle bus to Kushimoto Station, the closest JR station on the Kisei Main Line. From Kushimoto Station, there are non-stop express trains in the directions of Shin-Osaka and Kyoto.
(Breakfast provided)
ACCOMMODATION
6 accommodations between Shirahama and Kushimoto have been carefully selected, including traditional Japanese style hot-spring inns (onsen ryokans) and modern gorgeous resort hotels which the Kumano area has to offer.
Almost every accommodation (except Shingu) has its own hot springs (onsen). Enjoy a relaxing time in these famous hot-springs and refresh yourself for the next day's ride.
FOOD
One of the greatest features of this tour is the food. In addition to fresh tuna unloaded at the fish port of Katsuura, Kumano's local cuisine 'mehari-zushi', and specialties such as plums whose production is the highest in Wakayama, you can look forward to a wide variety of dishes prepared in the area surrounded by the sea, mountains, and streams. Wakayama is also the home of soy sauce, an indispensable ingredient of Japanese food.
EQUIPMENT
A support vehicle will be available throughout the entire tour. No need to carry your bags on your bike during the challenge – they will travel in a support vehicle between hotels.
In this tour, you can change your shoes and clothes before you start hiking. Of course, these shoes and clothes will be carried by the support vehicle during cycling and your bikes will be delivered to the next point by this vehicle.
You will also be provided with GPS devices, maps and a GPS tracking smartphone application for checking each rider's real time position. High-performance carbon road bikes (Cannondale Synapse Carbon Disc 105 etc.), Comfortable adventure bikes (Cannondale SLATE) and High quality e-hybrid bikes (YAMAHA / TREK / MIYATA) are available for rental at a rate of 20,000JPY for whole tour.
WHAT'S INCLUDED
6 nights' accommodation on twin share basis
6 breakfasts, 2 picnic lunches (on the day 2 and 3) and 5 dinners (Dinner on the day 4 is not included)
First one beverage for a toast ("Kanpai") in the dinners (Further more beverages are not included)
Tour guide(s) for both cycling and hiking
Van support
Mechanical support
Luggage transfer by van
Bike transfer by van during hiking
Train on the day 6
Snacks and water during ride
Accident Insurance (limited)
MAP
INQUIRY
If you have any questions about this tour, please contact us via the
Contact form
.
BOOKING
Tour:
KUMANO KODO Pilgrimage Bike & Hike
Price:
506,000-JPY /person (Twin room share basis)