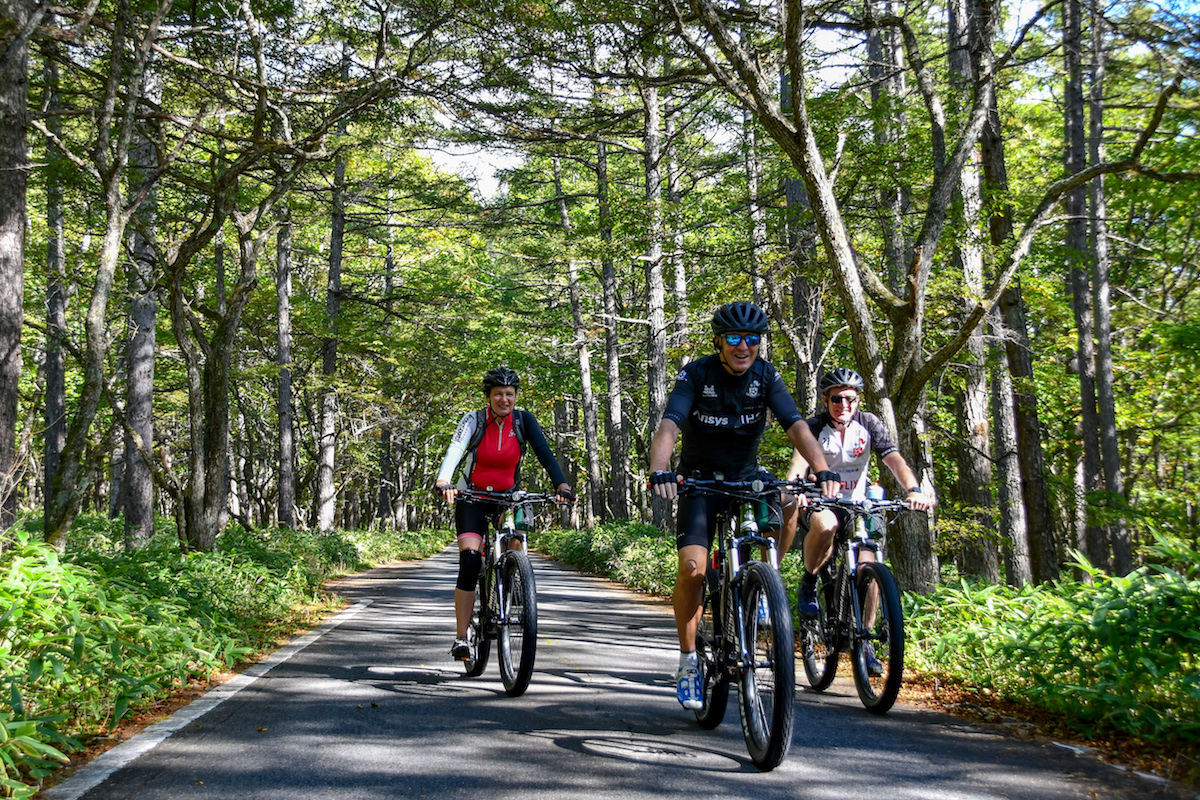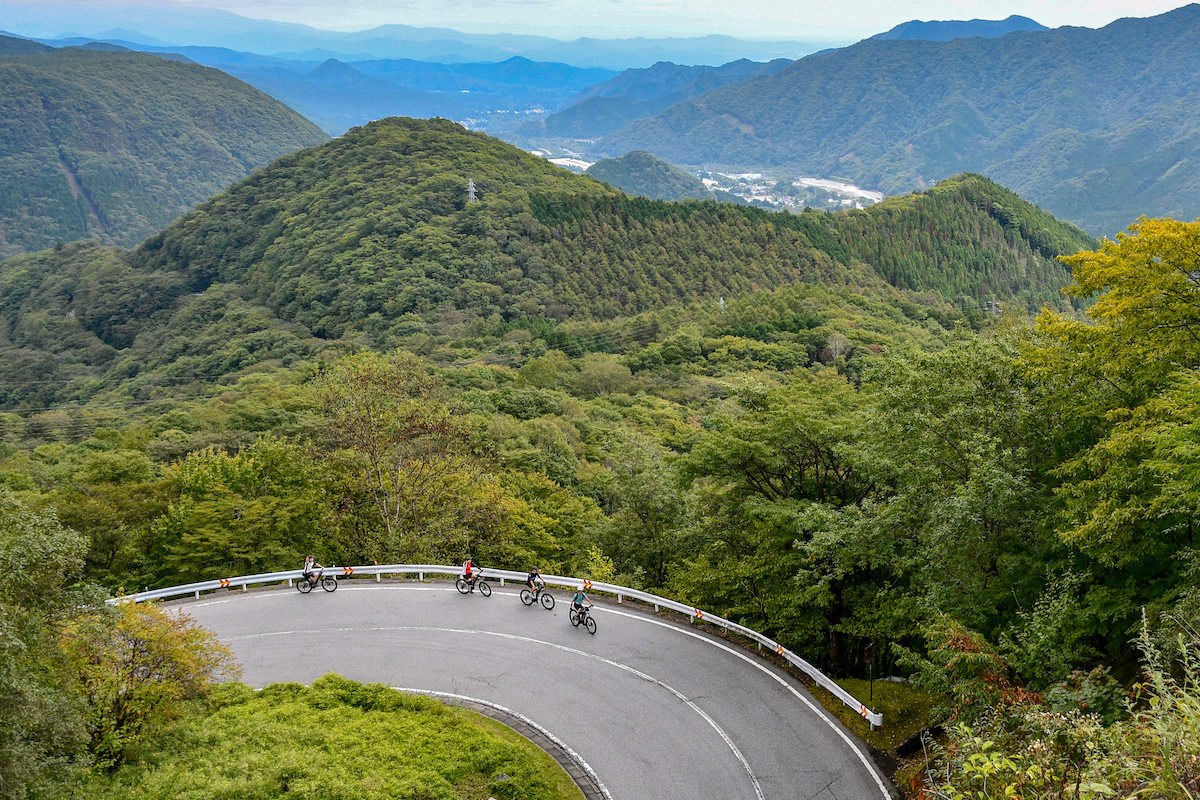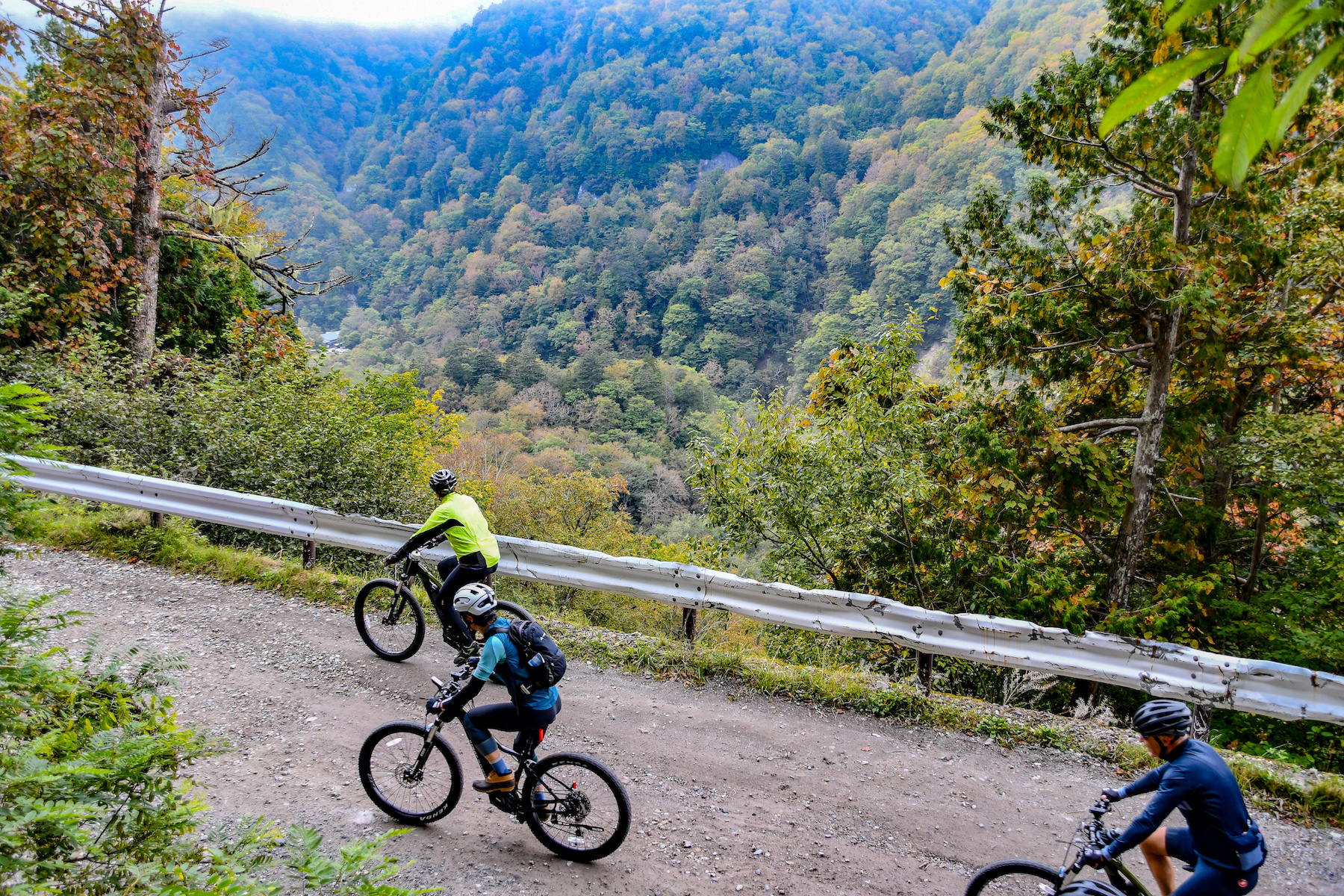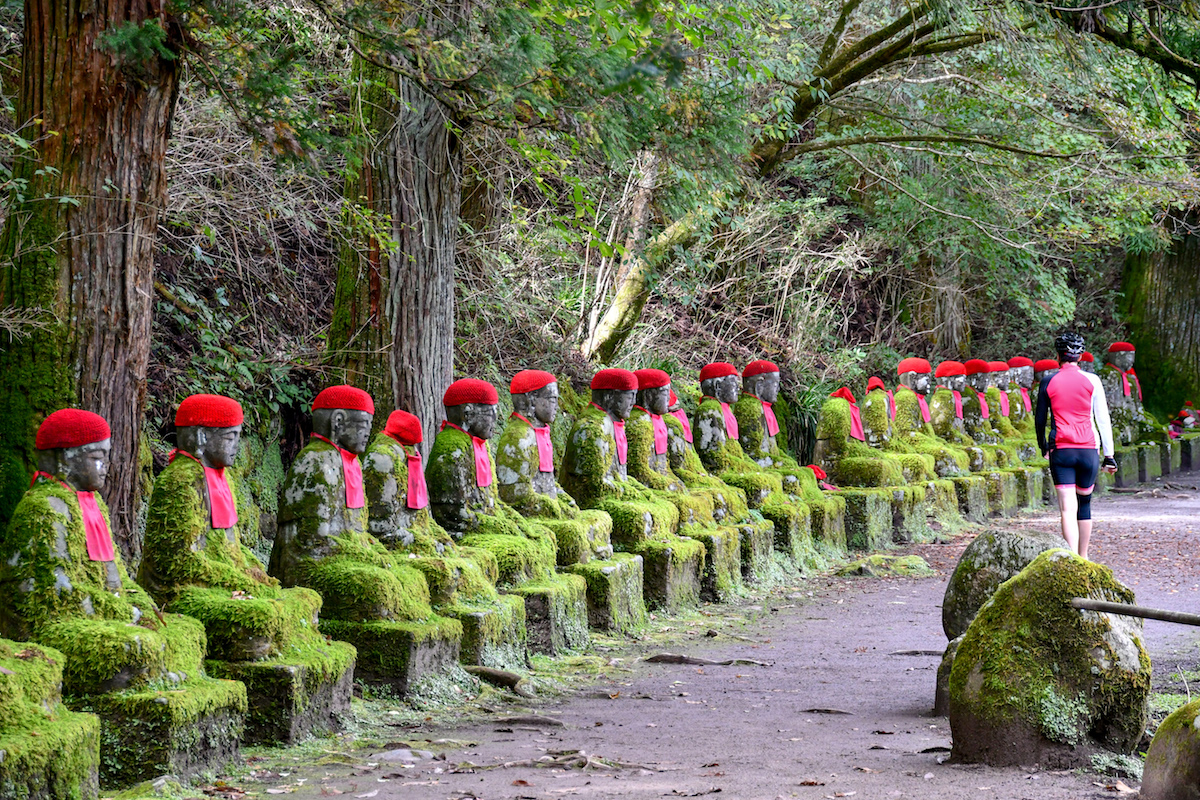 Destination
Nikko and surrounding area
Duration
5 days / 4 nights
Dates
On request (Ask for PRIVATE / CUSTOM Tour)
*Recommended season : May to October
Price
6-7 guests : ¥286,000- /person (Twin room share basis)
4-5 guests : ¥330,000- /person (Twin room share basis)
8 or more guests : Quote Individually
All prices include tax.
Single Supplement
30,000JPY (Note, may not be available in all locations)
Bike Rental
E-Bike rental fee is included in the tour price
OVERVIEW
Four days riding over backroads in the Nikko area, Tochigi by E-Bikes (Electric Bikes) and Discover a "hidden side" of Nikko! – An amazing adventure exploring nature, culture and friendship through cycling!
Cycle around the vast Nikko area and enjoy the various beautiful sceneries of mountains, lakes, rivers, forests and gravel roads with unique cultural visits.
Refresh your body with excellent Onsens (hot springs) and delicious local foods the Nikko are has to offer.
Nikko has been a sacred land of Shugen-do (mountain asceticism) for ages and is also the place where Ieyasu Tokugawa, the founder and the first "Shogun" of the Edo Shogunate, was laid to rest. As a result of these features, many "Samurai" visited this place for hundreds of years. Nikko offers so many tourist attractions and entertainment such as magnificent temples and shrines including the World Heritage site Nikko Toshogu Shrine that there is even a famous saying "See Nikko before you die."
<< This is one of the "Projects attracting tourists to National Parks of Japan" in 2021, supported by Ministry of the Environment Government of Japan.>>
HIGHLIGHTS
Experience the beautiful temples, shrines and surrounding mysterious atmosphere of the World Heritage sites of Nikko.
Cycle up the famous Irohazaka Winding Road.
Cycle along and boat across the Lake Chuzenji, the highest natural lake in Japan.
Ride across mountains and cycle into the most hidden and remote onsen village in Kanto region
Challenge a 8km car-free gravel road cycling heading to the hidden onsen.
We have hand-picked excellent onsen ryokans (Japanese style inns with natural hot springs).
The tour is attended by a cycling guide well familiar with the local history, lifestyle, people and food.
You can rent a high-quality Electric Mountain Bike (e-MTB).
Full support using a large van to ensure your bike ride and hiking are safe and comfortable.
RIDING LEVEL
MODERATE Cycling 30 – 50km / day
(Rental E-MTB will make the mileage and ascents easier.)
ITINERARY
Day 1 / Meet day – [No Cycling]
Meet at Nikko Kanaya Hotel, an elegant and classic resort hotel (the oldest resort hotel in Japan) in Nikko, where magnificent architecture, deep history and untouched nature merge. The hotel is located in Nikko National Park and in front of the World Heritage sites. After the reception and bike arrangement, you have a free time to walk around these World Heritage sites including Nikko Toshogu Shrine which enshrines Ieyasu Tokugawa, the founder and first shogun of the Edo Shogunate over 400 years ago.
(Overnight stay・No meal provided)
*French dinner using local fresh fish or meat at a classic style restaurant in the hotel can be arranged at extra cost.
Day 2 / Nikko Kanaya Hotel to Lake Chuzenji [Cycle 45km]
Cycle from Nikko Kanaya Hotel to the lakeside of Lake Chuzenji
Cycle along an ancient pilgrimage route of Nikko and visit Takio Shrine. After riding through the center of Nikko's temples and shrines, visit Kanmangafuchi Abyss (a line stone Jizo statues). Climb the Irohazaka Winding Road and have a local food lunch with river fish and/or yuba. Ride along the Lake Chuzenji and going into a car-free forest road heading to the lakeside. Then, take a boat across the lake and land in front of Chuzenji-Tachigikannon Temple. After visiting the temple with gorgeous view of Mt. Nantai and Lake Chuzenji, heading to the lakeside resort hotel.
(Overnight stay・Breakfast, Lunch & Dinner provided)
Day 3 / Lake Chuzenji to Okukinu [Cycle 40km]
Slowly up to mountainside of deep Nikko. Visit a stunning waterfall named Dragon Head Falls. After stopping for a short Ice-cream rest, ride up many switchbacks to Sannou Pass, the highest point (Elevation: 1,736m) in this tour. From the top, enjoy long long (around 14km) downhill to a riverside onsen village. Picnic lunch at a riverside rest place in front of a geyser. The last 7.6km way to the hotel is a car-free climbing gravel road surrounded by wild nature. But don't worry. The e-MTB will make this challenge much easier for you.
(Overnight stay・Breakfast, Lunch & Dinner provided)
Day 4 / Okukinu to Yunishikawa [Cycle 50km]
Morning 7.6km gravel downhill followed by a smooth descending road along the upper Kinu River. Stop at Setoai Valley for a beautiful view of the deep valley. After Japanese casual cuisine lunch, ride up 10km long winding forest road via short stop for an unique style grass drying and a local shrine. Following 10km is downhill to a hidden onsen village called Yunishikawa Onsen.
(Overnight stay・Breakfast, Lunch and Dinner provided)
Day 5 / Yunishikawa to Kinugawa Onsen – Breakup [Cycle 35km]
Slowly down along Yunishi River and visit Yunishikawa Dam (the newest dam around Nikko area). Down to Kawaji Onsen town and stop at a local popular shop of croquette. After Short walk in Dragon King Gorge and enjoy spectacle view, grilled river fish or yuba lunch at a nearby restaurant. Continuously down to Kinugawa Onsen and finish cycling at an excellent onsen hotel and enjoy gorgeous hot-springs.
Move to Kinugawa Onsen station (Tobu Line) and break-up.
(Breakfast & Lunch provided)
ACCOMMODATION
The accommodation in the popular area of Nikko on the day 1 and day 2 are classic Western style gorgeous hotel. And you will stay at a really hidden onsen ryokans/hotels with great hot-springs and delicious Japanese cuisine in the hidden side of Nikko on the day 3 and the day 4. All accommodations offer top-level hospitality and finely tuned Japanese style service. Every accommodation (except the day 1) has its own excellent onsen (natural hot spring) for you to relax in after a day of cycling.
FOOD
If it isn't for the cycling, many of our guests would call this a gourmet tour, offering an amazing range of traditional Japanese food, kaiseki-ryori (a traditional multi-course Japanese dinner), bento style breakfasts, local specialties like grilled ayu or iwana (fresh water trout) and yuba dishes (silky tofu skin) and coffee breaks with ice cream from local dairy farms and traditional Japanese sweets.
If you love to drink, many brands of sake proudly presented by Tochigi, the rice production center of the Kanto region, craft beer in Nikko, and Tochigi wine will be another great highlight of this tour.
EQUIPMENT
A support vehicle will be available throughout the entire tour. No need to carry your bags on your bike during the ride – they will travel in a support vehicle between hotels.
Rental of a High quality Electric Mountain Bike (e-MTB) (MIYATA etc.) is included.
WHAT'S INCLUDED
4 nights' accommodation on twin share basis
4 breakfasts, 4 lunches and 3 dinners (Dinner on the Day 1 is not included)
Rental e-MTB
Tour guide(s)
Van support
Mechanical support
Luggage transfer by van
Snacks, fruits and water during cycling
Accident insurance (limited)
Ride Experience high-performance cycling jersey (only for tours in May – September)
MAP
INQUIRY
If you have any questions about this tour, please contact us via the
Contact form
.
BOOKING
Tour:
Hidden NIKKO E-Bike Tour
Price:6-7 guests : ¥286,000- /person (Twin room share basis)
4-5 guests : ¥330,000- /person (Twin room share basis)
8 or more guests : Quote Individually
All prices include tax.