Ride Experience organise hiking, cycling and cultural experiences into the depths of Japan. Of course, you visit all the iconic places in Japan. But not only that, you get to see all those hidden away places only the Japanese would know about it.
I was lucky enough to join Mr Tetsuya Yamamoto on one of his Ride Experience tours into the depths of the Japanese countryside, taking in one of the most famous national parks in Japan together with some iconic cultural experiences along the way.
Each day was meticulously thought out, planned and put together – and the combination of cycling, hiking and cultural visits worked perfectly. Add to that a wonderful bunch of people and you have a magical and unforgettable tour!
Day 1. 5th October 2020 – Plan: 50km cycle , 600 m climb around lower mountain range of Nasu Highland, viewing Mt Nasu.
The tour started off with arrangements of bicycles for the tour. Ride Experience has a wide range of bicycles to suit all abilities – including electric assist, enabling anyone to experience the joy of cycling in the beautiful countryside.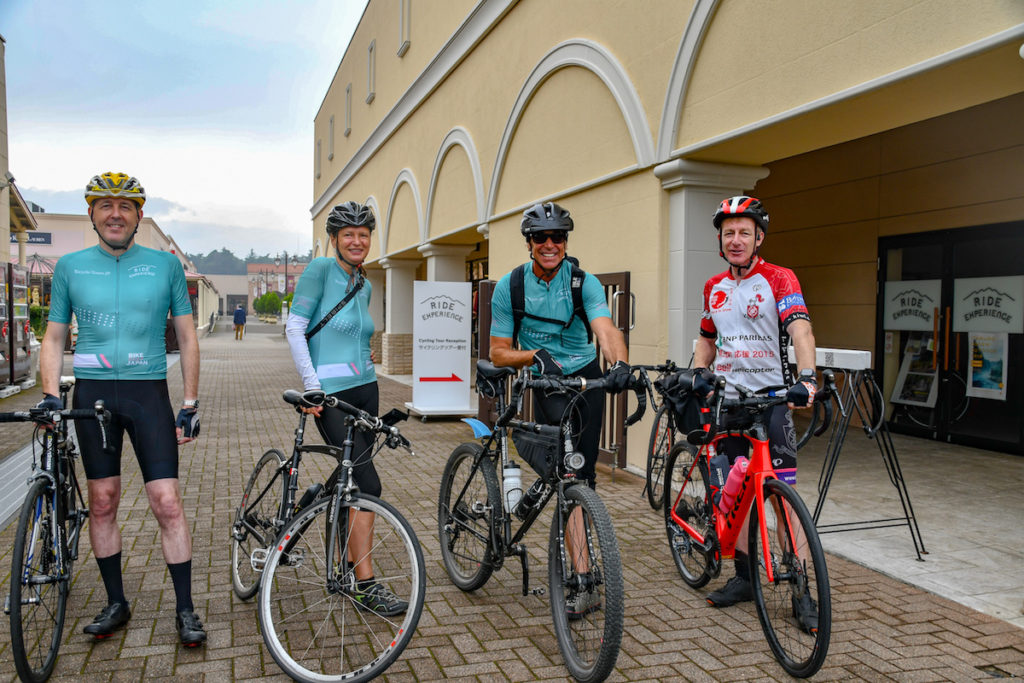 After a road safety briefing and warm up, it was time to get moving! The first day was a tour around the base of Mount Nasu, suitably designed to allow the group to warm up and at the same time Tetsuya to assess the group ability to ensure all members could enjoy the programme. We headed through the beautiful autumn scenery and as lunch time came, we stopped outside what appeared to be a small farmhouse, set back some way from the road. On closer inspection there was a small handwritten sign propped up against the entrance, announcing a "Natural Food Restaurant". On entering we were cheerfully greeted by the elderly couple running the restaurant – together with a mix of kitchen, cooking and charcoal fire aromas. The inside was a friendly mix of farmhouse, antique shop, living room and kitchen. Traditional straw mat / wooden deck seating surrounded 4 "Irori" cooking hearths, one of which had already been set with glowing charcoal with a gently steaming kettle placed over it. We were expected!
The restaurant was indeed a farm and produced its own fish – Iwana (Char in English) – which we cooked in the charcoal burning hearth (Irori) in the middle of the floor that we sat around. The fish was accompanied by a "teishoku" tray of seasonal local vegetables, hot delicious miso udon soup, brown rice and pickles. The fish was pulled directly out of the river farm prior to cooking and so was absolutely fresh – delicious!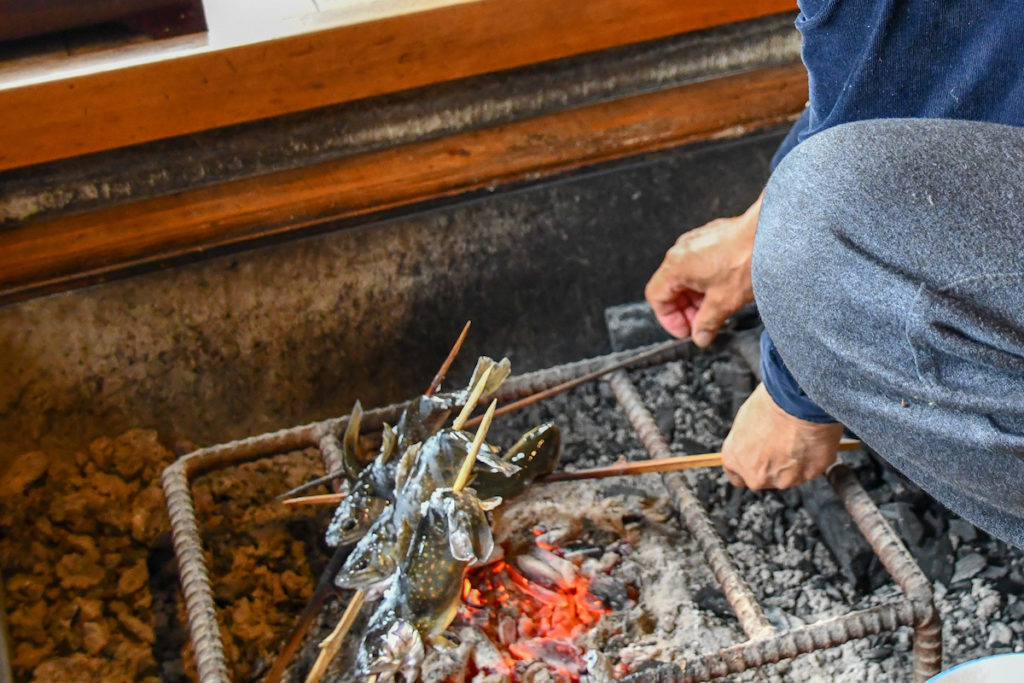 Comfortably satisfied with the country harvest lunch, we continued our navigation of the base of Mount Nasu – passing over a river suspension bridge and continuing past a group of 6 Jizo statues, brightly decked out in red bibs and bonnets. Jizo Bodhisattva, "O-Jizo-san" are everywhere in Japan, in temples, graveyards and often at the side of country roads. They are believed to protect primarily children, particularly those who predecease their parents. As the colour red is believed to ward off evil, the clothing and colour act as a double protection. Their other role is to protect travellers, which is why you will see them all across Japan – at roadside, corners and the borders of villages.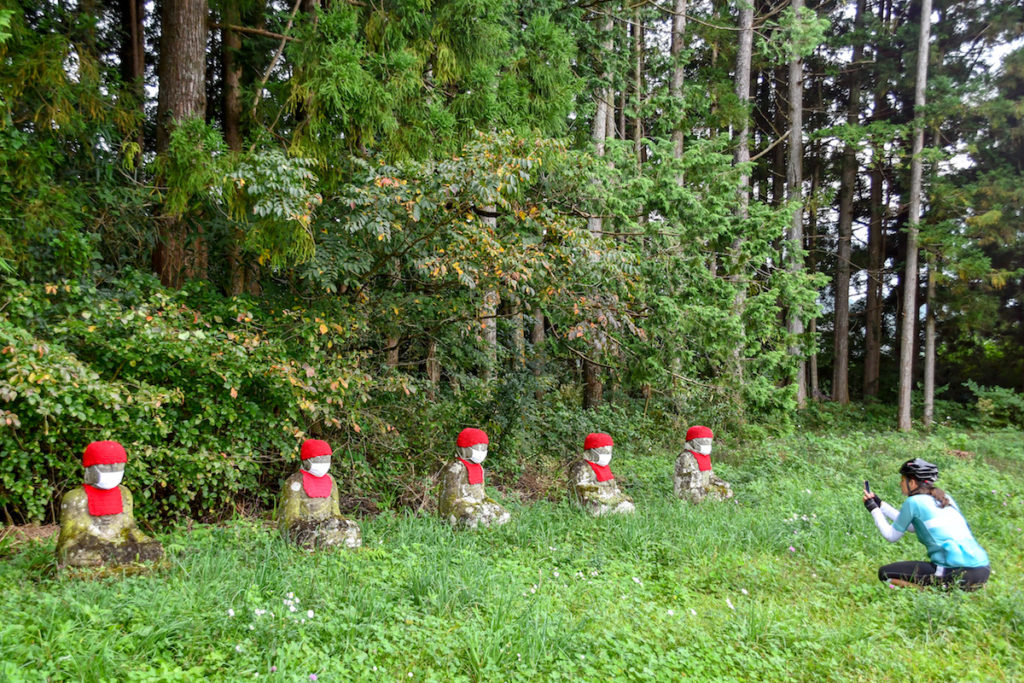 Tetsuya seems to know everywhere and everyone – a theme that is constantly reinforced as we continue our 5 day tour – and shorty we arrive at a Ice Cream/Butter Waffle confectioner whose owner is a friend of Tetsuya. Using locally produced milk, "Butter's Cousin" (Butter no Itoko) makes delicious butter waffles and rich soft ice cream. The special of the day was a milk pudding (purin) with rich vanilla soft ice cream on top – a perfect combination!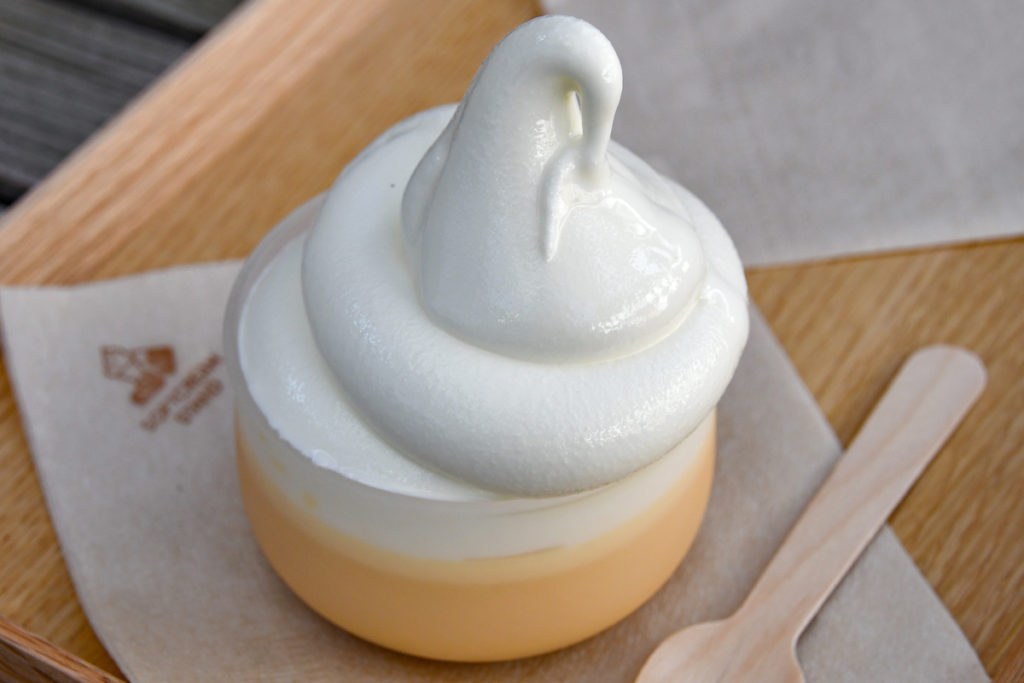 This was followed shortly afterwards with a stop at a different shop specialising in Japanese cakes, sweets and tea. Warmly greeted by the two staff, we were treated to a steaming cup of hot roasted green tea – (hojicha) .
That nights' accommodation was a traditional Japanese Onsen Ryokan – Matsukawaya Nasukogen Hotel which draws it's opaque white onsen water from 2 sources. Shikanoyu, which has more than 1380 years of history,and Okunosawa hot spring, which is placed above the Ohmaru Onsen. All of the hot springs are directly taken from the spring source, without any heat, water or additives added and they are piping hot! The hotel is situated high up the Nasu highlands – with expansive views both from the room and also from the outside baths. So sunrise and sunset is even more beautiful viewed from the comfort of your room or outside bath. Rooms were traditional Japanese tatami mats, with a futon neatly laid out waiting for you after dinner.
Day 2. 6th October 2020 – Plan: Full day hiking of Mt Nasu. (Nasu Dake) – height 1,917m
After a hearty Japanese style breakfast, and having carefully packed the lunch bento provided by our hotel we sat down for a briefing of the days plan. In addition to Tetsuya, today we were to meet a specialist mountain guide (and Stand Up Paddle Board SUP guide) Nishiguchi san – who would lead us on a hike up and around Mr Nasu.
Mt Nasu is a group of complex volcanoes consisting of Mt Chausu, Mt Asahi, Mt Sanbonyari as well as Mt Minami-gassan and Mt Kurooya. The plan was to hike up to the peak, traverse and then descend using the Nasu Ropeway. And so, with rucksacks packed, we boarded the van to take us to the mountain hike start point. Unfortunately, when we arrived the wind was already blowing in excess of 30m/s – which is approaching the top of the Beaufort Wind Scale and too strong to walk in. As a result, the ropeway cable car had stopped and Nishiguchi san suggested we approach from a much lower level on the other side of the mountain. This would give us a wind shaded hike up the lee side whilst still allowing full view of the beauty of the autumn leaves (kouyou). And so this is what we did, climbing gently through the forest until we reached a flat area called Ubagadaira at the base of the mountain peak. The Autumn leaves were spectacular, colouring the whole area in a patchwork of bronze, purple, deep red, orange, brown and greens. Higher up we could see volcanic gasses escaping from between the rocks.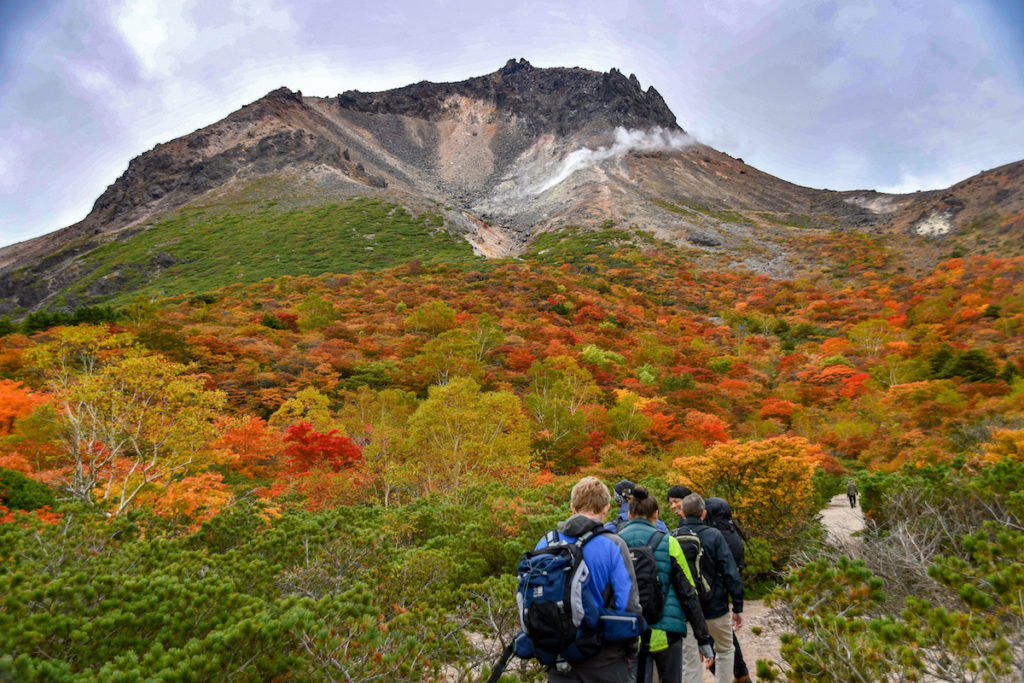 After lunch, we descended along the same route back to the van and moved on to visit a famous onsen that lies at the top of a valley only accessible by walking down a steep and winding path. Kita Onsen Ryokan (http://www.kitaonsen.com/mokujie.htm ) is located on the Yosase River of the Nasu-Onsenkyo area of northern Tochigi Prefecture. The onsen consists of three structures built during late Edo (1603-1868), early Meiji (1868-1912) and early Showa (1926-1989) periods. The source of the onsen water is said to have been discovered some 1,200 years ago by a Tengu ( a legendary mythical figure from ancient times that originates in India and came to Japan via China) Entering the onsen is like going back in time – and is an experience you are unlikely to forget. The onsen has more recently become well known for the film location of the hit Japanese movie Thermae Romae – about a plumber who moves between ancient Rome and modern Japan.
Day 3. 7 October 2020 – Plan: Full day cycling from Nasu to Bato – small winding roads in the Japanese countryside.
After our daily ride plan briefing, we set off on a sunny Wednesday morning at 8am to cycle the largely downhill route from the Nasu highlands to Bato. It was such an exhilarating experience cycling in the bright autumn morning sun through the rolling rice fields and countryside. Passing through a farm, we stopped to chat to the farmer who gave us an impromptu guide to his farm. So typical of the people we met, friendly and welcoming – and always pleased to answer our questions!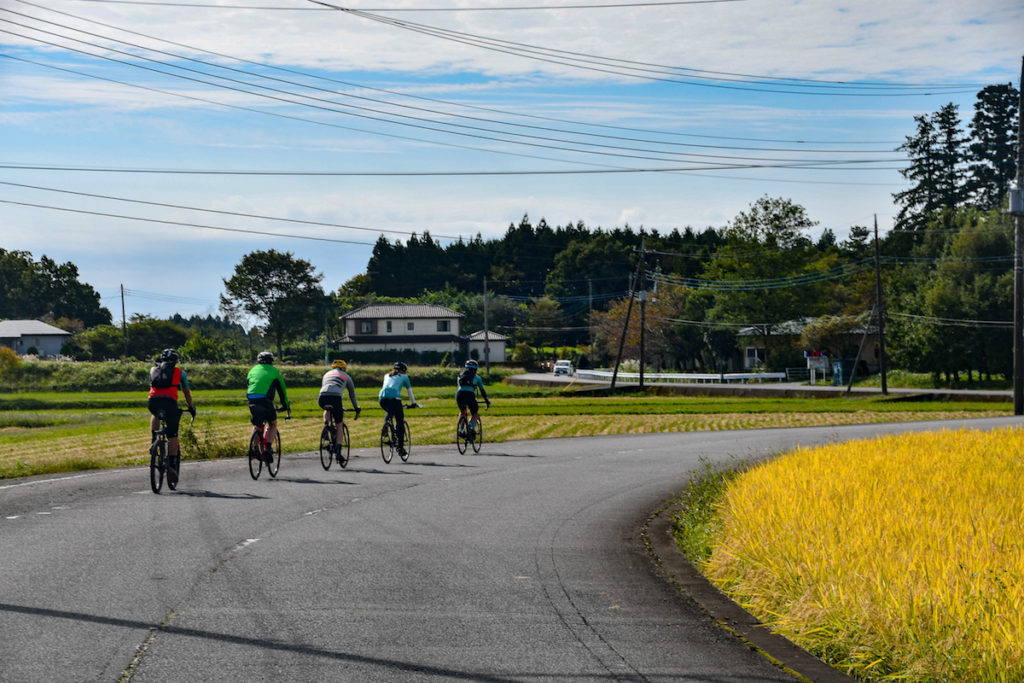 Our first stop was Daioji Temple, which is a Zen temple with a 600 year history where even today you can experience traditional meditative Za-zen. The seven thickly thatched buildings of the temple are recognised as important national cultural structures. In the grounds of the buildings were many different examples of ojizosan statues.
Next we headed for the historically important but apparently little visited Zen Unganji Temple. It's location was stunning, on the side of a fast flowing stream set back into the hill behind it reached by crossing a bright red humped bridge. A long steep set of stairs leads up to the entrance gate, behind which is the temple proper. The picturesque gorge it overlooks is worth a visit just by itself! Surrounded by autumn leaves, the main hall is surprisingly plain and in the grounds is an Amida statue.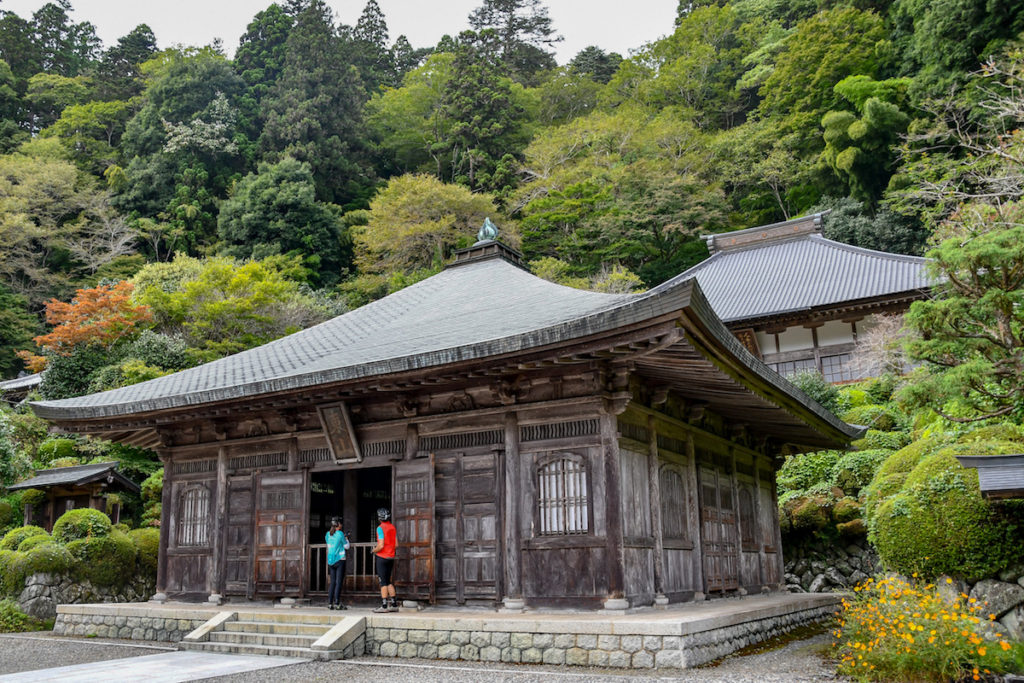 As we carried on down towards Bato our next stop was a local pottery studio, Fujita Ceramics. Tochigi is famous for "Mashiko ware" and "Kasama ware" and Fujita Ceramics is in the Koisago area of Nakagawa-machi. The local sand is rich in Silicon Dioxide, which is the primary raw material for ceramics and helps modify thermal expansion, regulate drying, shrinkage and even helps pigment extension. Ceramic manufacture goes back over 200 years in this area of Tochigi, and Koisago yaki pottery is known for its durability and beauty of its deep glaze and gold crystals. The 6th generation Mr Fujita gave us a detailed tour of his studio, starting with how the clay is produced by grinding the local rock into a slurry, then pressing the liquid out leaving the base pottery clay. This is then used to hand make all the clay pottery, which is then glazed and baked.
Fujita Ceramics is one of the few remaining studios in the area, and has built a educational facility on the site facilitating hands on experience of making pottery.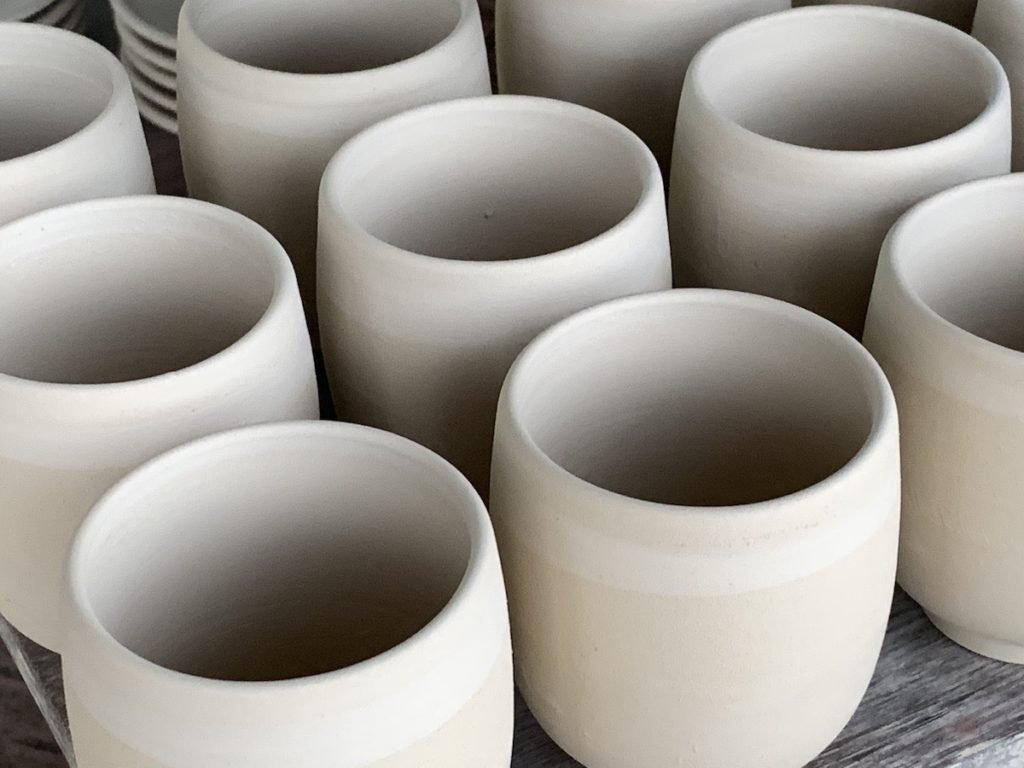 From this fascinating visit, we moved on to our accommodation for the night. This was Iizuka Tei – which was a 200 year old town house from the Edo ear of Japan that has been thoughtfully restored to it's original beauty whilst sensitively incorporating modern equipment into the building structure. The result is an unforgettable Edo experience in beautiful traditional Japanese architecture. The pleasure of simply being in the rooms made me very sad to leave the following day and I would love to have had more time to linger there…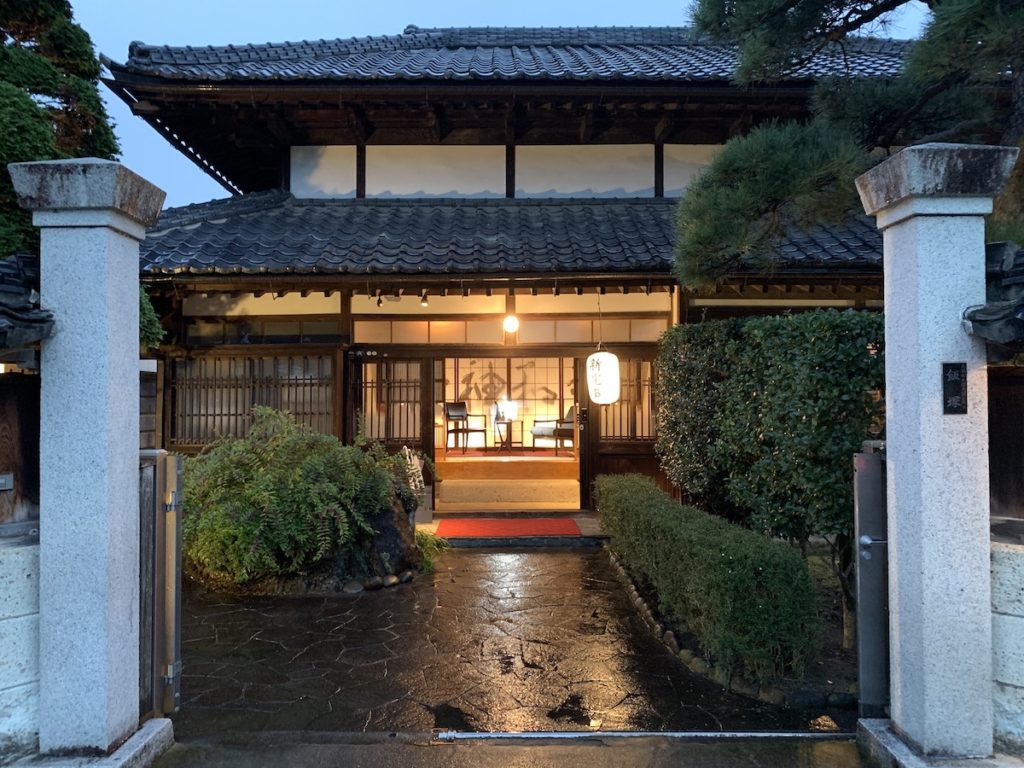 Day 4. 8 October 2020 – Plan: Cycle from Bato to Nikko
Having enjoyed a traditional Japanese breakfast and completed our daily briefing we set off for Nikko. Our first stop was a retro miso and soy sauce store called Hinotama Shoten.
An intriguing and fascinating step back into history, the shop incorporates a museum, organic food of miso and soy sauce together with a café and evening bar. The delightful owner (a friend of Tetsuya) effusively welcomed us to his shop and immediately launched into a lively introduction of the various exhibits, following up with a tour of the extensive back area. The back area of his property was more fascinating than the exhibition area, providing another of those Japan experiences that will remain with you.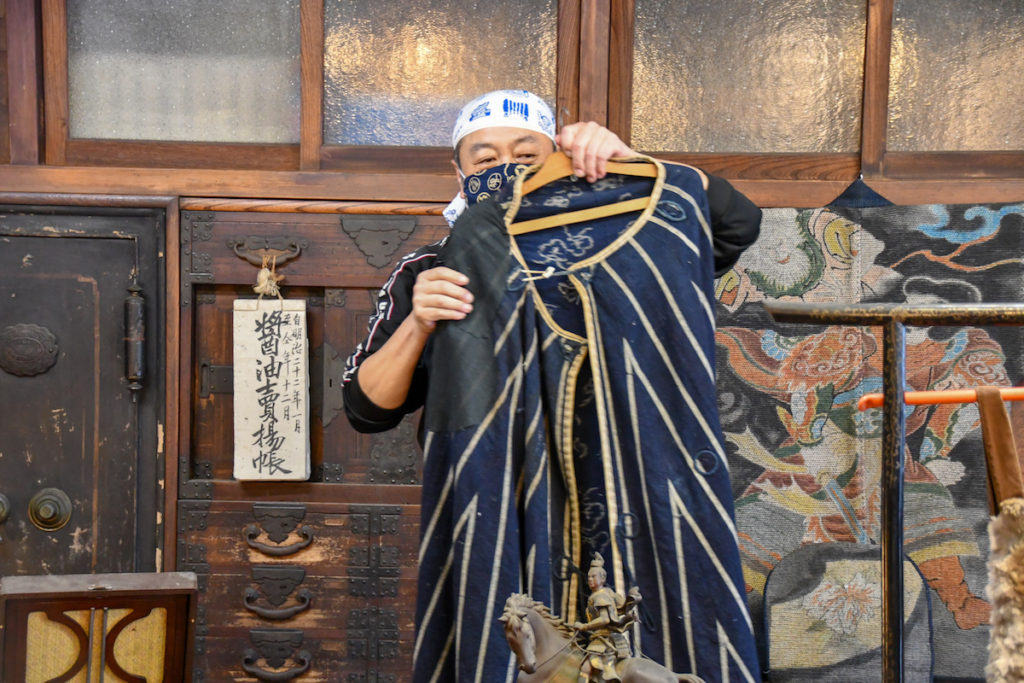 Another experience never to forget is the approach road to Nikko Tosho gu shrine, the longest tree lined avenue in the world. With 3 sections having a total of 35km in length and built from around 1625, it consists of over 200,000 cedar trees some in excess of 30m in height. To cycle along this road, some parts of which are stone paved, with the light filtering in from between the enormous towering 400 year old trees is truly magical.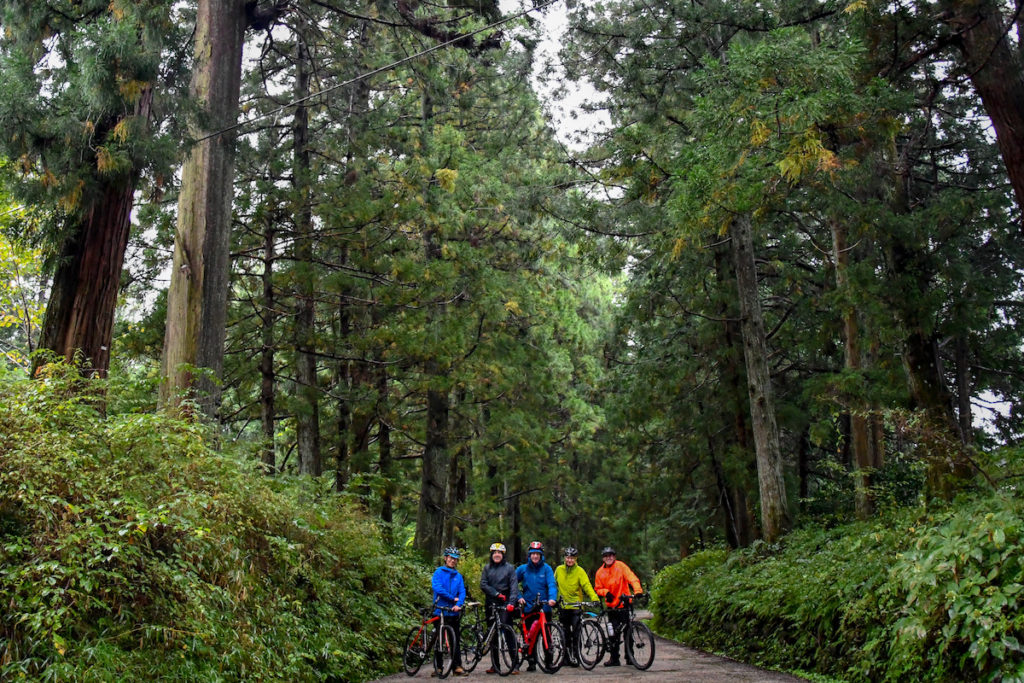 We arrived at our accommodation from the Cedar Avenue, the Nikko Kanaya Hotel, the oldest resort hotel in Japan which was opened in 1873. Former guests include Frank Lloyd Wright, Natsume Soseki, Albert Einstein, Charles and Anne Lindbergh and Helen Keller among many others. A curious blend of Japanese and Western culture infuses the hotel and to stay there is like stepping back into a forgotten age.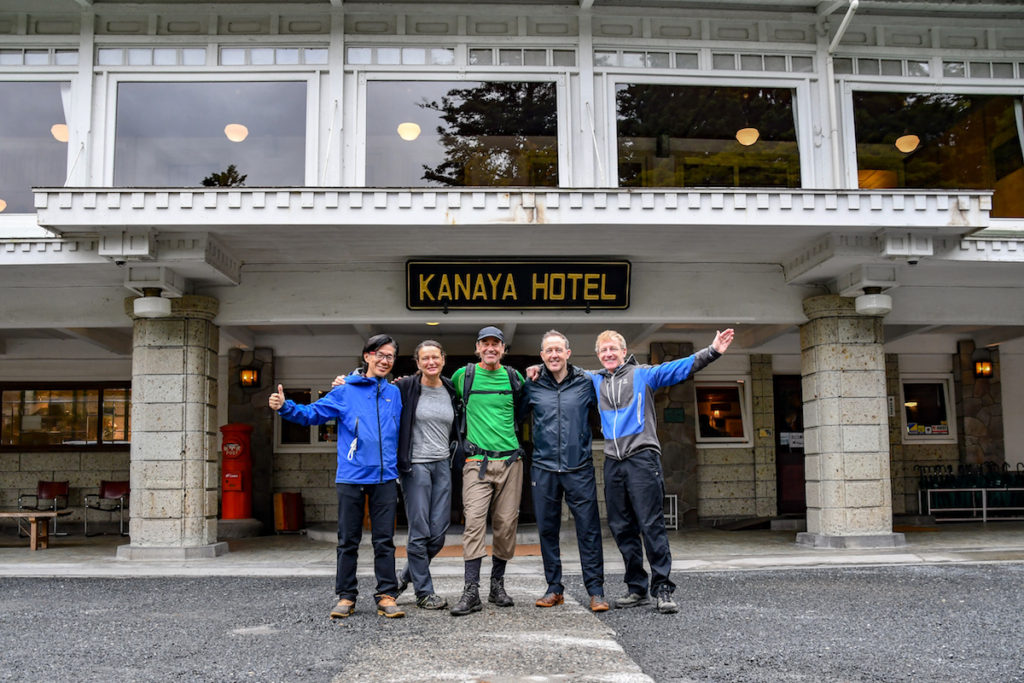 Day 5. 9 October 2020 Plan: Half day hiking to Senjogahara marshland, return to Tokyo.
Our final day, after a leisurely breakfast we set off for a morning of hiking. S
enjogahara Marshland offers some of the best hiking within the Nikko National Park area and is located between Lake Chuzenji and the onsen area of Yumoto. October and November are particularly beautiful because of the rich colours of the autumn leaves and when the marshland grasslands turn into an auburn red, purple and yellow mix with the larch trees turning a glittering gold.
We were joined on the hike by an extremely knowledgeable local naturalist colleague of Tetsuya, who gave us a lively, entertaining and illuminating commentary on the natural environment we were enjoying. His comments brought to life the autumn hiking experience.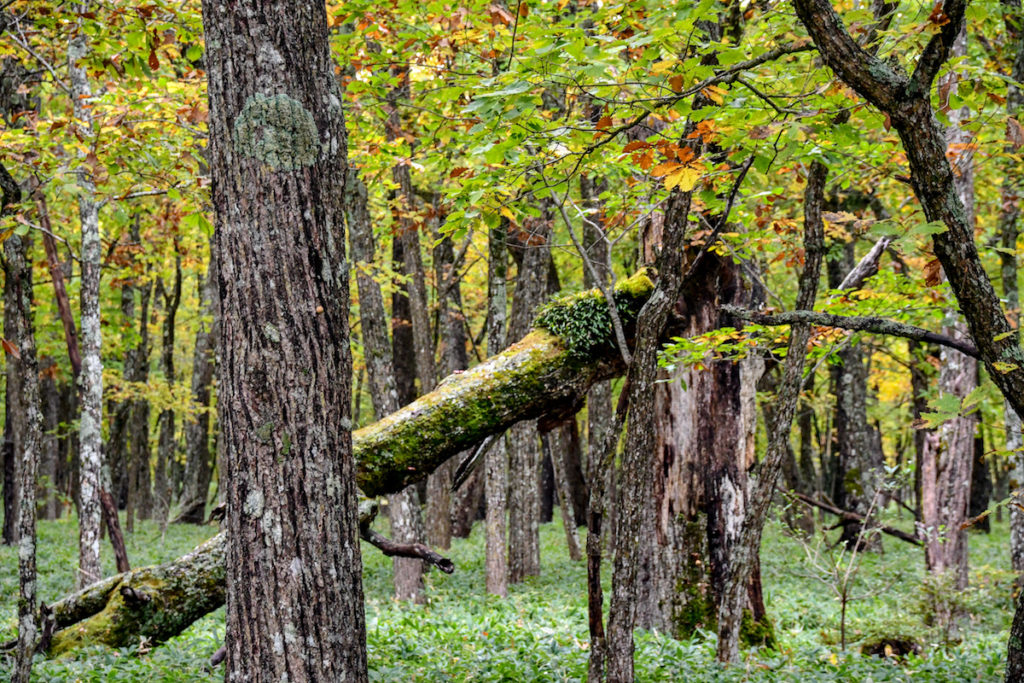 Next stop was the very picturesque and aptly named Ryuzu (Dragon's head) waterfall. It is located on the Yukawa River shortly before the river empties into Lake Chuzenji.
And from there very sadly the tour concluded, and we were taken to the finish point Nikko Station. Many thanks and much appreciation for a thoroughly wonderful tour meticulously planned and delivered by Tetsuya and his team.
By Paul Taylor