Destination
奥鬼怒温泉 Okukinu Onsen, Tochigi
Duration
約3時間 (3 hours)
Dates
5月〜10月の間で随時開催(詳細は宿へお問い合わせ下さい)


On request (Ask to each accommodation)
*Recommended season : May to October
Price
TBD(八丁の湯または加仁湯へお問合せください)
Bike Rental
MIYATA Ridge-Rnner 6180 (E-MTB) : Included
OVERVIEW
Eマウンテンバイクで秘境の林道と鬼怒川源流部の大自然を満喫する冒険サイクリング!
奥鬼怒温泉への宿泊の際に楽しめる、レンタルのEマウンテンバイクを使った、自由でエキサイティングなセルフガイドスタイルの半日サイクリングツアー。
奥鬼怒温泉の旅館、八丁の湯または加仁湯からサイクリングをスタートし、奥鬼怒スーパー林道の秘境感・冒険感たっぷりの砂利道を、Eマウンテンバイクの走破力を活かしてダウンヒル!ふもとの女夫渕駐車場からは、舗装路を鬼怒川源流部の流れに沿って緩やかに降り、見晴らしの良い川俣大橋を渡ったら、さらに進んで瀬戸合峡(川俣ダム)へ。余裕があれば、深度100mにも及ぶ切り立った岸壁を見下ろす絶景の吊橋へとショートハイクを楽しむこともできます。後半は、水面きらめく川俣湖の眺めを楽しみながら、来た道を折り返して女夫渕駐車場でフィニッシュ。ここからは、宿のシャトルバスがお迎えに来ますので、自転車を積み込んで奥鬼怒温泉の宿へと戻りましょう。
<自転車走行距離:往復で約27km>
※ スタート前に、スタッフが紙のルートマップで走行ルートを説明します。また、連携するGoogleマップで、随時自分の現在地とルートを確認することができます。
※ もちろん、Eマウンテンバイクの乗り方や使い方も、スタッフが丁寧に説明します。
<<令和3年度(補正予算)国立・国定公園の利用拠点の魅力創造による地域復興推進事業>>
主催:(一社)日光市観光協会 湯西川・川俣・奥鬼怒支部
An exciting half-day bike trip using high-performance E-Mountain Bike!
Challenge gravel downhill on a car-free forest road in the deep mountainside of Nikko.
Enjoy cycle cruising along the headwater of Kinu River and gorgeous scenery of Setoai-kyo (Kawamata Dam) with a relaxing night at the last hidden onsen (hot-spring) in Kanto region of Japan!
<< This is one of the "Projects attracting tourists to National Parks of Japan" in 2022, supported by Ministry of the Environment Government of Japan.>>
HIGHLIGHTS
高性能で走破性の高いE-マウテンバイクを使い、通常は一般車両通行止の秘境の未舗装路「奥鬼怒スーパー林道」を、特別な許可を得てエキサイティングなダウンヒル! / Challenge a 8km car-free gravel road downhill by high-performance E-MTB.
走りやすく景色も良い鬼怒川源流部の流れに沿って走る爽快サイクリング。/ Exhilarating cycling on scenic roads along the headwater of Kinu River.
渓谷にそそり建つダムとダムが創り出す幻想的な風景を堪能。/ Enjoy giant constructions of dams and mysterious scenery which dams created.
関東最後の秘湯、奥鬼怒温泉の極上湯で疲れを癒す / Stay at the most hidden and remote onsen village in Kanto region.
RIDING LEVEL
初心者〜初級・中級向け
BEGINNER – MODERATE 27km / day with gravel downhill
ACCOMMODATION
宿泊は、「関東最後の秘湯」と呼ばれる奥鬼怒温泉郷の人気温泉旅館、「八丁の湯」または「加仁湯」へ。
神秘の森に包まれた100%源泉かけ流しの露天風呂で、鬼怒川源流部のせせらぎを聞き、滝を眺めながら冒険ライドの疲れを癒しましょう。地元食材にこだわった季節の山の幸満載のディナーで、たっぷりとエネルギーも補充!
You will stay at a really hidden onsen ryokan in Okukinu Onsen. Relax in great natural open-air hot-springs after a day of cycling adventure. And the delicious Japanese cuisine dinner with fresh local ingredients will make you more and more happy!
EQUIPMENT
当ツアーには、太いタイヤとサスペンション、そして大容量バッテリーを積んだパワフルな電動アシスト機能を備えた、最新型の高性能Eマウンテンバイクのレンタルが含まれています。もちろん、ヘルメットもレンタルされます。
High-performance E-MTB will be rent to participants of this tour.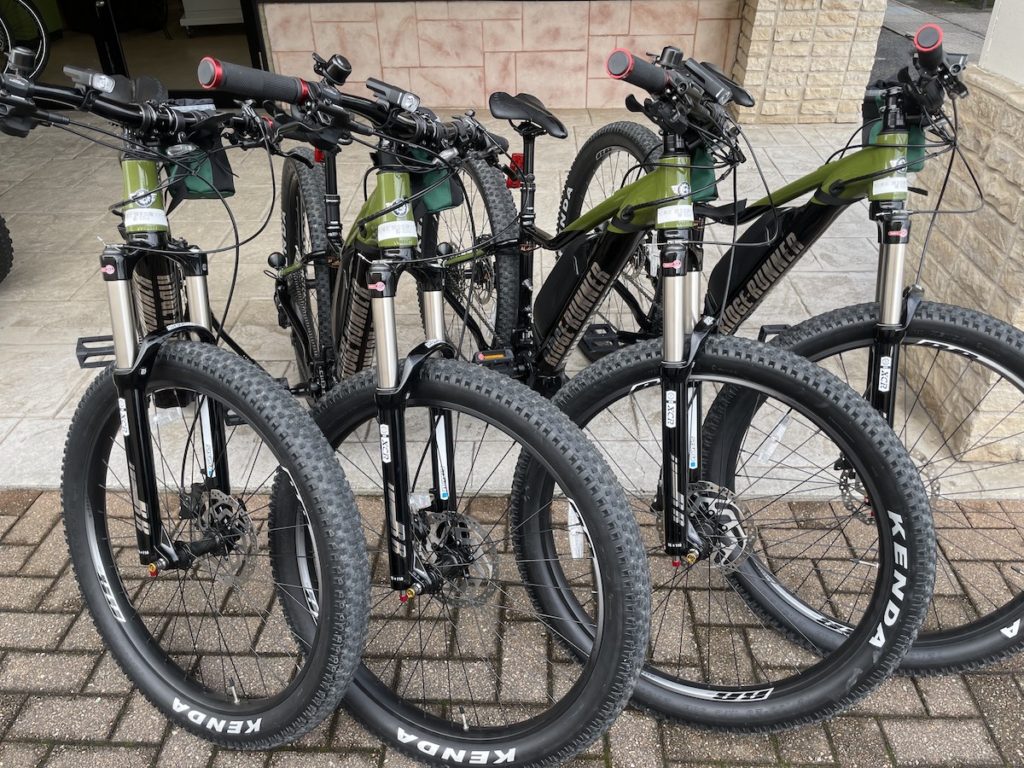 WHAT'S INCLUDED
Eマウンテンバイク及びヘルメットレンタル Rental of E-MTB & helmet
ルートマップ(GoogleマップへのQRコード付  Route map with link to Google map
スタート時の乗り方レクチャー Short lesson of biking before start
ツアー終了場所(女夫渕駐車場)から宿への送迎 Shuttle bus from finishing point to accommodation
INQUIRY
If you have any questions about this tour, please contact us via the
Contact form
.
BOOKING
Tour:
奥⻤怒リバーサイドライド OKUKINU Riverside Ride
Price:
TBD(八丁の湯または加仁湯へお問合せください)